Jon Stewart Yaks Oscars, Presidents On Larry King Wednesday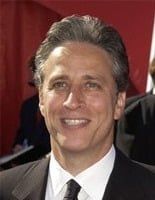 Talk show pundit Jon Stewart is set to host the 80 th annual Academy Awards next Sunday. It'll be his second time at the mike. But if you want the inside, ultra-exclusive scoop on what's what, tune in to CNN's Larry King Live on Wednesday, Feb. 20 at 9 p.m. ET.
Stewart will yak about his thoughts on the presidential race, the writer's strike, and hosting the upcoming Oscars. And here's your chance to talk to him yourself, because he'll be taking live viewer calls and emails.
Stewart was expected to arrive in Hollywood today, bringing his writing team with him for an intensive week of Oscar prep. The Academy also has engaged veteran Oscar scribes Hal Kanter, Buz Kohan, Jon Macks, and Bruce Vilanch.
Sid Ganis, president of the Academy of Motion Picture Arts and Sciences, and producer Gil Cates, are promising a bright and starry night for the Oscars telecast, Sunday, Feb. 24 at 9 p.m. ET on ABC.
"We are now full-steam ahead", Ganis said Thursday at a news conference at Academy headquarters in Beverly Hills. "The writers are writing furiously or furiously writing."
Cates made sure to mention that the writers weren't writing during the strike. "We are behind, but we will catch up," he said. "Instead of writing eight hours a day, they are writing 12 to 13 hours a day."
Well, I don't know about you, but that makes me feel a whole lot better about my insane work load. At least I'm not under the Oscars gun!