Jonah Hill And Matthew Morrison Have Words On Late Night With Jimmy Fallon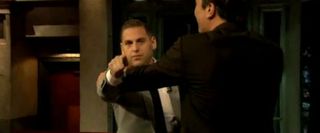 In the battle for late night there are many contenders, certainly more than the Conan-Leno(-Letterman) fiasco would suggest. First, The Daily Show with Jon Stewart regularly mops them all from his cable network soapbox and second, that conversation would ignore the most promising of all the hosts, NBC's Jimmy Fallon. Late Night with Jimmy Fallon must feel what Conan/Stewart felt like 10 years ago... a fresh voice in an old man's game.
His show projects that aura of cool (having The Roots as your band doesn't hurt), which by extension allows his guests to play a little jazz. It's an young and fun environment where similarly minded guests can come on and do their thing. Even better when their (Jonah Hill) thing, is calling out another star (Matthew Morrison). Yes, indeed. That's what we got last week when Jonah Hill hit the stage and gave one of the best talk show appearances since Joaquin on Letterman, even extending a verbal throw down to the Glee-meister himself, Matthew Morrison.
Apparently, Jonah Hill doesn't like to be the brunt of jokes at 'douchey Hollywood parties he has to go to for work' and he took exception to what he felt was Morrison poking a little fun at his expense. Too bad there is very little pudge left to poke on Jonah's sleek, new look so instead he stood up and told the choir master, "you better bring your shit next time I see you [...] let's see him sing his way out of this one." Obviously, it didn't take long for Morrison to see the challenge and accept, in his own theatrical way. First, the clip and then the full Hill interview below. Watch, laugh, anticipate the showdown.
Late Night with Jimmy Fallon - Matthew Morrison's Response To Jonah Hill
Late Night with Jimmy Fallon - Jonah Hill : PART 1
Late Night with Jimmy Fallon - Jonah Hill : PART 2
Late Night with Jimmy Fallon airs every, uh, late night at 12:35 a.m. on NBC.
Your Daily Blend of Entertainment News
Thank you for signing up to CinemaBlend. You will receive a verification email shortly.
There was a problem. Please refresh the page and try again.