Joss Whedon's S.H.I.E.L.D. Pilot Adds Nashville's Chloe Bennet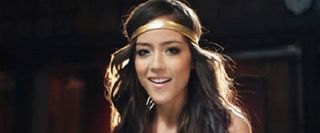 Casting has continued today for one of the most high profile pilots of the season. This time it's Nashville star Chloe Bennet who has been added to the cast of Joss Whedon's Marvel's S.H.I.E.L.D, a drama set in the Marvel Comics world Whedon has already brought to life on the big screen, most recently in The Avengers.
Bennet has been cast as Skye, an edgy, confident, fast-talking woman with an interest in superheroes and their secret organizations that borders on an obsession. THR says that Bennet is the last of the six regular characters to be cast for the pilot. She will join already cast Ming-Na (ER) as Agent Melinda May, Brett Dalton (Killing Lincoln) as Agent Grant Ward, relative newcomer Elizabeth Henstridge as Agent Gemma Simmons and Ian de Caestecker as Agent Leo Fitz. Clark Gregg will reprise his role from The Avengers as Agent Phil Coulson, rounding out the regular cast.
Bennet has been recurring this season on the freshman drama Nashville, also at ABC. She plays record company assistant Hailey on that series. It's her first big role and it has clearly made an impact since she's landed another big role as a regular, this time. Bennet previously had a short career as a Chinese pop star and worked on the Teen Nick project The Nightlife under the name Chloe Wang.
S.H.I.E.L.D. may be the pilot this season that has drawn the most interest. It focuses on a top-secret peacekeeping organization and the agents who are a part of it. Joss Whedon will write the pilot, along with his brother, Jed Whedon, and sister-in-law, Maurissa Tancharoen. The three are also executive producing with Jeffrey Bell and Jeph Loeb of Marvel TV. The pilot is expected to start filming early next year.
Your Daily Blend of Entertainment News
Thank you for signing up to CinemaBlend. You will receive a verification email shortly.
There was a problem. Please refresh the page and try again.