Judd Apatow, Will Ferrell, And Ben Stiller Creating In-Flight Channel For Virgin America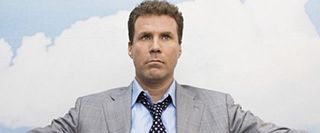 Does anybody actually watch the programming on airplanes anymore? There was a time, not so long ago, when your options for whiling away the airborne hours were limited to reading a book, sleeping, paging through SkyMall, vomiting into the air-sickness bags, or, as a last resort, watching the in-flight channels. Now Virgin America is hoping to make the in-flight entertainment a more palatable option. The Wrap reports that Virgin is enlisting big-name comedy talents such as Judd Apatow, Will Ferrell, and Ben Stiller to create a new in-flight network called the Virgin Produced Channel.
The VPC's original content will also feature works from Seth Green and Matthew Senreich's Stoopid Monkey Productions – the folks responsible for Cartoon Network's Robot Chicken -- and from the Black Eyed Peas' will.i.am. That's a solid line-up of creative talent, but will anybody actually watch? These days, passengers are likely to bring their own entertainment in the form of tablet computers or portable media players. Why tune give the airline's network a chance when you can watch exactly what you want on your own computer?
Still, the VPC is smart to be partnering with proven comedic talents. Nobody wants to sit through a heavy drama during a flight, but programming that offers you the chance to forget about your uncomfortable seat and actually have a good laugh or two? That might just get my attention, especially if Apatow's name is attached to it.
So, what will the network's programming look like? The story doesn't clarify whether it will be traditional 30-minute sitcoms or smaller, more digestible shorts. It will, however, be "fresh, funny, and edgy." Or so they hope…
Your Daily Blend of Entertainment News
Your Daily Blend of Entertainment News
Thank you for signing up to CinemaBlend. You will receive a verification email shortly.
There was a problem. Please refresh the page and try again.