Julia Louis-Dreyfus Tries To Pawn Her Emmy To Bryan Cranston And Aaron Paul In Hysterical Video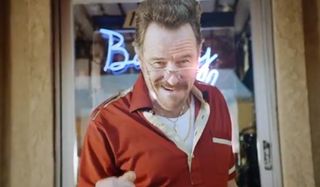 As a nominee, we might say that Julia Louis-Dreyfus is to the Emmy Awards what Meryl Streep is to the Oscars, in that she's nominated a lot more than the average actor, but believe it or not, she doesn't win as often as you might think -- or as often as she deserves. With that said, Louis-Dreyfus does have a few statues laying around, and by the viral video above, it seems she's ready to pawn one of them off if it means paying the hefty cost of a private island. Hey, Celine's got one.
Sponsored by Audi and posted by the Television Academy, in anticipation of the upcoming Emmy Award ceremony, the video has the Beep Veep star being featured in some Pawn Shop reality show, where two employees who seem really, really familiar -- Breaking Bad's Bryan Cranston and Aaron Paul -- are willing to consider paying for her Tinkerbell-holding-a-volleyball statue.
Make no mistake, Mary-Louise Parker Julia Louis-Dreyfus probably gets recognized all over the place. After all, she was a supporting star on Seinfeld way back when. But these guys are playing like they don't know her. They're also unimpressed with her Supporting Star role -- guess Louis-Dreyfus wasn't willing to part with the Lead Actress Emmys she's won for The New Adventures of Old Christine and Veep -- or that she's a comedic actress, because you know comedy is so much easier than drama, right? Wait, that's not the saying...
In the end, she can't part with her Emmy, and after getting a bit feisty with the guys...
She leaves, only to discover she left her (Audi!) keys inside. And that's where she finds Aaron Paul and Bryan Cranston preparing to cook up.... a puppy bath for their illegal dog bathing business.
Julia Louis-Dreyfus is nominated twice this year, both for Veep (Outstanding Lead Actress and as an executive producer for the series, she's eligible to win for Outstanding Comedy Series). Check out the full list of Emmy nominees here. And tune in to NBC on Monday, August 25 at 8:00 p.m. ET/5 p.m. PT to watch the 66th Primetime Emmy Awards air live.
Your Daily Blend of Entertainment News
Thank you for signing up to CinemaBlend. You will receive a verification email shortly.
There was a problem. Please refresh the page and try again.