Julianne Moore May Revisit As The World Turns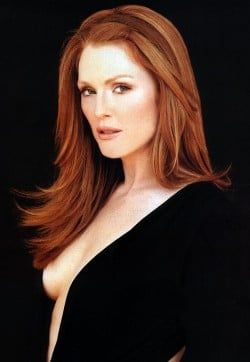 With As the World Turns slated to ... well, stop turning later this year, it looks like nostalgia is hitting one of the soap's more prominent former stars. Julianne Moore, who played both Frannie and Sabrina Hughes from 1985-87, is looking to make a brief appearance on the soap before it bids farewell after 54 years, according to this report on Zap2It.
Wouldn't it be fun if a lot of the notable alumni from the show's past just showed up suddenly. For Moore, it's 23 years since her characters were last seen, which means it could be fun to check in on some of these past favorites. Other notable former cast members include Courteney Cox, Jordana Brewster, Dana Delaney, William Fichtner, Mary McDonnell, Jason Biggs, Ming-Na, Lauryn Hill, Martin Sheen, Meg Ryan, Amanda Seyfried, Parker Posey, Emmy Rossum and Marisa Tomei.
Most importantly, James Van Der Beek was on the show in 1995 which is well before he was Daswon. I know, I know. You're looking at that list and wondering why I'd pick James Van Der Beek out of it. Because he's DAWSON, that's why, dammit!
I actually think it would be pretty neat if a lot of these, and other former stars, of the stalwart series would make return appearances before the series wraps for good. Even though I'm not much of a soap person, it's still sad to see this once powerful format dying off series by series. It was easy to imagine when I was little that these shows would just be on forever. But now it looks like we might be closing in on a time when the soap opera is little more than a footnote in television history, like the variety show.
Your Daily Blend of Entertainment News
Thank you for signing up to CinemaBlend. You will receive a verification email shortly.
There was a problem. Please refresh the page and try again.