Kathy Bates And Angela Bassett Could Return To American Horror Story For Season 4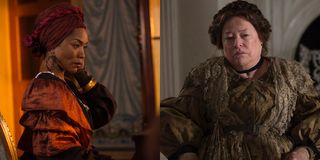 When you have actors of the caliber of Kathy Bates and Angela Bassett at your disposal, you don't dispose that opportunity. Ryan Murphy seems to be well aware of this unwritten law, considering just a day has passed since the official announcement that American Horror Story has been renewed for a fourth season and the series' co-creator has already reportedly approached them about returning to the FX drama for new roles next year.
Following up on the news of the horror series' renewal, EW got the exclusive on this update, stating that AHS co-creator Ryan Murphy wants both women back on the series, and from what Murphy says, it sounds like they're up for it.
While this doesn't sound like full confirmation that the two actors will be returning to the series for Season 4, signs point to interest, and that's certainly a start.
In the current season, American Horror Story: Coven, Bates and Bassett's characters are rivals. Spoilers if you're not caught up on the series! Bates' Madame LaLaurie is a former slave-owner/torturer who's been cursed with eternal life. In the present day, she seems almost harmless by comparison to the monstrous acts she was performing in her earlier life. But the flashback at the start of last night's episode reminded us of just how sadistic she really was, and something tells me that side of her is still in there somewhere, possibly biding its time until there's an opportunity to emerge.
Bassett's character, meanwhile, is Marie Laveaux, a woman LaLaurie made the mistake of crossing back in the day. She too is still around, and she's still smarting over the wrongs that were done to her and the people she cared about.
As we might have predicted, both Bates and Bassett have been excellent additions to this already fantastic cast, so it would be great news to hear that they're returning for next season. The cast is one of many things we have to speculate between each new season of American Horror Story, as the show starts over with a new story and new characters each season, and while some cast members stick around season after season (Jessica Lange, Lily Rabe and Evan Peters among them), others have come and gone — and in the case of Taissa Farmiga, come back again. Fingers crossed that Bassett and Bates are on the returners list for Season 4. In the meantime, we'll continue enjoying their talent on the current season, which airs Wednesday at 10:00 p.m. ET on FX. Read Nick's breakdown of last night's episode here.