Katie Tops New Daytime Shows But Steve Harvey Is Close Behind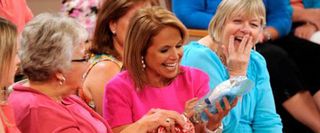 This week was a big one for daytime TV watchers. Katie Couric, Jeff Probst, and Ricki Lake all had shows premiering this week, following Steve Harvey's lead last week. That's four new daytime shows on the market to choose from, and, as many people guessed, Katie topped the pack, although not by the margin many people would think.
When Katie aired for the first time on Monday, the brand new morning show pulled in an impressive 2.7 rating, with a high percentage of those watchers coming from the 25-54 demographic. However, by week's end, THR is reporting Couric's ratings dropped a whopping 37%. By the end of the week, Katie was barely pulling ahead of The Steve Harvey Show.
I quite liked Katie and do think the move back to daytime TV was the right career call for the newswoman; however, I haven't seen The Steve Harvey Show or any of her other competitive fodder to really compare in terms of quality. I do think we're pretty early in the game to determine who will end up on top of the ratings heap for new programming. Currently, The Steve Harvey Show has a slight competitive edge because his show began airing last week. People have had two weeks to check the man's show out and decide whether or not they want to invest time. The other new shows are still on less sure footing.
In fact, things might be looking most up for The Ricki Lake Show. THR also noted Lake's new program was up 25% over the week. That still puts her ratings under a 1.0, but it certainly seems like she has the best potential to grow. The woman even lost out to the Jeff Probst Show, however, so I guess when you are down, there is no place to go but up.
TV Blend will keep you posted on how the new daytime TV programs fares over the coming weeks.
Your Daily Blend of Entertainment News
Thank you for signing up to CinemaBlend. You will receive a verification email shortly.
There was a problem. Please refresh the page and try again.