Kelsey Grammer Is Kind Of A Diva In New Partners Teaser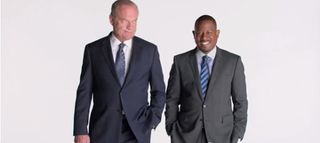 FX often takes an offbeat approach to promoting their new series, teasing the concept and tone with subtle videos and imagery before finally releasing a proper trailer to clue us in to what we might expect from the series. Such is the case for their upcoming new comedy, which stars Martin Lawrence and Kelsey Grammer, as you may have noticed by the above teaser, which has Grammer going diva and Lawrence calling him out on it. FX is clearly banking on star power for the Partners promos. Kelsey Grammar. Martin Lawrence. Need they say more? Not really.
Partners is a multi-camera comedy, which stars Grammer and Lawrence as two Chicago attorneys who team up as partners when they're both in the midst of personal crises. Marcus Jackson (Lawrence) is the nice, ethical, good-doing attorney and community activist, who's going through an emotional divorce. Allen Braddock (Grammer) is an elitist who's just been let go from his firm. The two characters are "brought together by fate and desperation" and it sounds like their clashing outlooks on law and life force them to find a balance between "the ethical and the unscrupulous" at work and in their personal lives.
Partners is FX's latest 10/90 model comedy, which means if things go well for the comedy early on, we may be seeing a lot of it on the network, similar to how Anger Management is set up. In the meantime, it's evident that FX wants to get the word out that the great Martin Lawrence and Kelsey Grammer are starring in a new TV comedy together. It's kind of mind-blowing...
Kelsey Grammer has made a career out of strong TV performances, with starring roles in Cheers and its spinoff comedy Frasier. He also voices the role of Sideshow Bob In The Simpsons and starred in comedy Back to You. More recently, he shifted to drama with a starring role in Starz's Boss. Like Grammer, Martin Lawrence also made a name for himself in television, first with a recurring role on What's Happening Now! and later with his own comedy Martin. He shifted to film since then, with the Bad Boys and Big Momma's House films being among his popular credits. Both actors returning to comedy in the same show is a big deal, so it's not surprising that FX is spotlighting that with these teases.
FX has Partners lined up to premiere Monday, August 4 at 9:00 p.m. In addition to Martin Lawrence and Kelsey Grammar, the cast also includes Telma Hopkins, Rory O'Malley, McKaley Miller, Edi Patterson and Daniele Watts.
Image 1 of 7
Image 2 of 7
Image 3 of 7
Image 4 of 7
Image 5 of 7
Image 6 of 7
Image 7 of 7
Your Daily Blend of Entertainment News
Thank you for signing up to CinemaBlend. You will receive a verification email shortly.
There was a problem. Please refresh the page and try again.