'Killer Wave' Hits Small Screen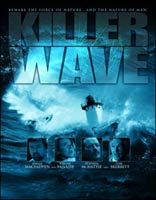 Riding a wave of real-life disasters, ION Television brings us 'Killer Wave,' an action-packed miniseries about a tsunami that threatens to wipe out half the planet. Only, there's something sinister about this 'natural' disaster.
When massive tidal waves hit the East Coast, a team of scientists is called in to investigate – including John McAdams (Angus MacFadyen), an expert on man-made ecological disasters and weapons of mass destruction, and the beautiful Sophie Marleau (Karine Vanasse) of the Oceanographic Institute.
Things get complicated when another scientist is murdered, and McAdams and Marleau find themselves on the run, dodging both the FBI and paid assassins. Turns out the waves are man-made, caused by a bunch of nuclear missiles detonated under the ocean. The culprits? An evil corporation helmed by CEO Victor Bannister (ever notice how all the bad guys are named Victor?), played by Tom Skerritt.
He and trusted adviser Edgar Powell (Stephen McHattie) hatched the watery scheme to land a multi-billion dollar contract from the government to build a sea wall along the eastern seaboard. It's all part of their plan to save the company from bankruptcy. (Wouldn't it have been easier just to hire a financial advisor?) Will the marine biologists save the world? I think we all know the answer to that.
'Killer Wave,' directed by Bruce McDonald and exec-produced by Robert Halmi, Sr. and Robert Halmi, Jr., was filmed in more than 45 locations throughout Canada during the summer of 2006.
Here's the trailer:
'Killer Wave' will premiere on ION on Sunday, August 5th.
Your Daily Blend of Entertainment News
Thank you for signing up to CinemaBlend. You will receive a verification email shortly.
There was a problem. Please refresh the page and try again.