Kyle MacLachlan Joins Season 4 Of The Good Wife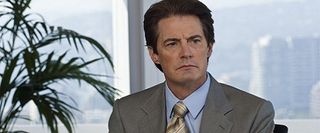 The Good Wife has booked another guest star to join the ranks this season. The latest on the long list of Season 4 guests is Kyle MacLachlan, who is just coming off of fall's first to be cancelled new drama, Made in Jersey.
EW says MacLachlan will be joining The Good Wife in a multi-episode arc. So far the details of his appearance are few; all we know is his character will have some interaction with Eli, played by Alan Cumming. There's no name or description of the character, and no air date for his episodes yet, either.
MacLachlan doesn't seem to have been too bothered by the cancellation of Made in Jersey and is certainly getting back on his feet quickly. For those who didn't see CBS' extremely short-lived legal drama – and that is a lot of people based on the ratings – MacLachlan is better known as Bree's husband from Desperate Housewives. Portlandia fans will also recognize him as the Mayor of Portland; he played the role in six episodes in both Seasons 1 and 2 of the IFC comedy.
It's been something of a banner season for The Good Wife in terms of guest stars. So far they've already nabbed Amanda Peet, Christina Ricci, J.R. Knight, Brian Dennehy and Stockard Channing. The series will also have Michael J. Fox come back for another guest appearance, and just recently we reported that Matthew Perry will be showing up again, as well. MacLachlan is certainly in good company on The Good Wife's guest list.
The Good Wife airs Sundays at 9 p.m. ET on CBS.
Your Daily Blend of Entertainment News
Thank you for signing up to CinemaBlend. You will receive a verification email shortly.
There was a problem. Please refresh the page and try again.