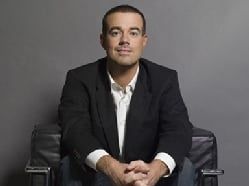 After weeks of speculation, it's happening: late-night shows are starting to come back. Last Call with Carson Daly, a show that up until a few months ago I thought had been canceled sometime in '05, has the dubious honor of being the first late-night show to start taping new episodes since the WGA strike began on November 5th. According to The Hollywood Reporter, Last Call will begin taping shows this week to air next week.
During the last writers strike in 1988, Johnny Carson was the first host to come back to the airwaves, after about two months of staying dark. Since the beginning of this strike, the question of the late-night talk shows returning hasn't really been one of "if," but "when." While some thought that Letterman, being on air the longest, would be the one to lead the way, it seems that the second school of thought was true: the newer and/or lower-rated shows would come back early and try to capitalize on being the only game in town.
Whether Daly's move will pave the way for other hosts to cross the picket line and perform without their writers remains to be seen. While there have been rumors of Craig Ferguson returning, or The Tonight Show coming back without host Jay Leno, neither of these has happened. In fact, NBC recently announced that they are going to be airing special "theme" reruns of The Tonight Show in lieu of new episodes.
There's no word on who Daly's guests are going to be. After all, how many actors are going to want to cross the picket line after SAG has been so vocal in its support of the writers? My guess is Last Call, which was born out of Daly's stint on TRL, is going to be musician-heavy just to stay on the safe side. Even if his guests are on the outside of the controversy, whether Daly's early return is going to help his ratings in the long run or just help him gain enemies will be an interesting story to watch unfold in the coming months.
Your Daily Blend of Entertainment News
Your Daily Blend of Entertainment News
Thank you for signing up to CinemaBlend. You will receive a verification email shortly.
There was a problem. Please refresh the page and try again.