Lena Dunham's HBO Series Girls Premieres At SXSW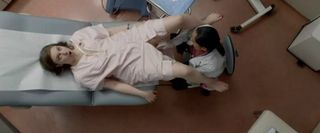 The South By Southwest Film Festival, more commonly known as SXSW, is rapidly becoming one of the can't miss events of the year. Earlier today, the festival announced some major titles that would be making their debut there including Drew Goddard and Joss Whedon's long awaited Cabin in the Woods, which will kick off the Austin based festival. However, it's not just feature films making the rounds, the festival will also mark the world premiere of HBO's upcoming new series called Girls.
Even though it's a television show, it shouldn't come as much of a surprise that HBO has decided to debut its new series Girls at SXSW, since writer-director Lena Dunham - the voice of a generation, well, a voice of a generation - also premiered her first and only feature film, the excellent Tiny Furniture, there and it turned out rather well for everyone. She made quite the splash and now the acclaimed indie film has been given the Criterion treatment for its home video release. Not bad. Judging by the brief tease, Girls seems similar in tone and style so it should hopefully be able to replicate the positive buzz before its proper premiere in April.
The Judd Apatow produced comedy will follow a small group of 'girls' as they try to navigate their desperately poor, young professional lives in New York City. I wouldn't expect much in the way of 'plot' but instead more a slice of life look at this particular subsection of women struggling in the big city - and one that is actually written by a woman! I am very much looking forward to this mumblecore comedy coming to HBO and if you're lucky enough to be attending SXSW, I suggest checking out the first three episodes while you're there.
Girls debuts April 2012 on HBO. It stars Lena Dunham, Allison Williams, Angelic Zambrana and Chris Eigeman. It was created by Lena Dunham and executively produced by Judd Apatow.
Your Daily Blend of Entertainment News
Thank you for signing up to CinemaBlend. You will receive a verification email shortly.
There was a problem. Please refresh the page and try again.