Letterman Returning With His Writers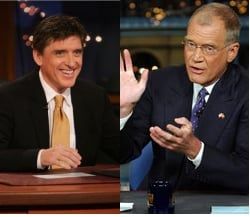 I have never claimed to be objective. I am unabashed in my love for Vincent D'Onofrio, Veronica Mars, crotchety old men on television and the WGA. It is because of these last two that I am thrilled to announce that David Letterman's production company has worked out a deal with the Writers Guild of America. On January 2nd, when the rest of the network late night hosts are returning to television without their writers, Letterman will be coming back with his entire staff.
According to The Hollywood Reporter, Worldwide Pants, Letterman's production company, has managed to work some crazy TV voodoo and strike a deal with the WGA that would allow both his writers and those for The Late Late Show with Craig Ferguson to come back to work even though the strike is nowhere near ending. Letterman and Ferguson are able to strike a deal when Leno and O'Brien cannot because unlike their NBC counterparts, Worldwide Pants owns both shows independently of their network, CBS.
What's amazing about this deal is not the fact that they were able to negotiate without CBS, but the fact that they were able to strike a deal regarding new media, which unlike the show itself, is owned by CBS. On Friday, the WGA released a statement saying, "This is a comprehensive agreement that addresses the issues important to writers, particularly new media. Worldwide Pants has accepted the very same proposals that the guild was prepared to present to the media conglomerates."
The fact that Letterman and Ferguson are coming back with their writers is a major coup. Many SAG members aren't willing to cross picket lines, which will make booking guests difficult for the rest of the hosts. The deal also shows the AMPTP that their plan to end the strike by just making it into a waiting game won't necessarily work. Instead of caving, the WGA is proving that they are ready willing and able to pursue other avenues in order to get want they want and return to work.
David Letterman has already announced his guests for January 2nd. Donald Trump along with musical guest Shooter Jennings have been scheduled since November, but going forward, you can expect most of the A-list stars with projects to promote to head on over to CBS. This can be a positive development for the writers strike in general, because once Letterman starts beating ratings king Leno, there's a good chance NBC Universal is going to be a little more willing to negotiate. The guild seems to be anticipating this, saying, "It's time for NBC Universal to step up to the plate and negotiate a companywide deal that will put Jay Leno, who has supported our cause from the beginning, back on the air with his writers." With the scripted series drying up and crap like Clash of the Choirs filling the airways, any positive movement is more than welcome.
Your Daily Blend of Entertainment News
Your Daily Blend of Entertainment News
Thank you for signing up to CinemaBlend. You will receive a verification email shortly.
There was a problem. Please refresh the page and try again.