Liev Schreiber Starring In Showtime's Ray Donovan Pilot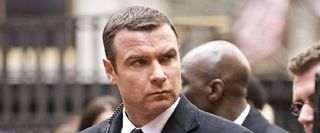 The siren song of pay cable has lured in another big talent who has traditionally stuck to the big screen. Deadline is reporting that Liev Schreiber has signed on to play the lead in Ray Donovan, a dramedy pilot for Showtime. This will be the first TV series job for Schreiber since a four-episode run on CSI back in 2007, in the aftermath of William Petersen's departure.
Schreiber will play the title character, a Hollywood "fixer" who gets called in to solve embarrassing problems, like dead hookers or action heroes getting busted while coked out of their mind and attempting to couple with inanimate objects. He's the guy that keeps people's names out of the papers, pays off those who need to be payed off, and generally tries to keep the world from noticing the thick sheen of filth under Hollywood's glitz and glamour. Unfortunately, his knack for problem-solving doesn't extend to sorting out his own dysfunctional family.
Schreiber had previously played down the likelihood of him ever taking on an ongoing series role. When he took on the short CSI gig, he said that "I hadn't done any television, not because I was against television, but mostly I was afraid of the contracts. I have kind of a two-month attention span and I figured if I get locked into one of those, I would be dead." Obviously he's overcome his paralyzing fear of contracts, and it's a good thing, because this sounds like a great role for him.
Ray Donovan was created and exec produced by Ann Biderman (Southland). TV and film producer Mark Gordon (Criminal Minds, Source Code) is also an executive producer on the series.
Your Daily Blend of Entertainment News
Thank you for signing up to CinemaBlend. You will receive a verification email shortly.
There was a problem. Please refresh the page and try again.