Life's Too Short Gets A Second Season, An Idiot Abroad Gets A Spin-off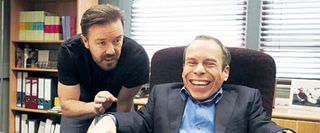 As far as I'm concerned, it's impossible to have too much Ricky Gervais in your life. I'll go you one further: it's impossible to have too many Ricky Gervais creations in your life. It seems the universe agrees with me for the most part, as Gervais has made two big announcements regarding his TV future. Laughspin reports that HBO's Life's Too Short will be getting a second season, and Gervais is also creating a spin-off of An Idiot Abroad called The Short Way Round.
Life's Too Short stars Warwick Davis (Willow, the Harry Potter movies) as a fictionalized version of himself. Davis, both in real life and in the series, is friends with Gervais and Stephen Merchant, and the series sees him frequently pestering them for work and otherwise imposing on them. The series originally aired in the U.K., and is currently airing on HBO here in the states. According to Gervais, a second season is in the works for spring of 2013.
Davis will also be starring in The Short Way Round, this time alongside An Idiot Abroad's Karl Pilkington. It's a variation on Idiot Abroad's concept, but this time Pilkington will be sent around the world with Davis for bicycling tours through different countries. As Gervais describes it, "[Karl has] finally signed a contract for The Short Way Round, cycling round the world with a dwarf in his basket." Sounds like a recipe for success to me. And hey, at least this time Karl will have someone with which to share his misery. Maybe they'll even finally get him to bungee jump. An Idiot Abroad can still be found in reruns on the Science Channel.
Your Daily Blend of Entertainment News