Limp Bizkit Frontman Fred Durst Working With CBS On New Comedy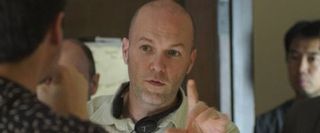 After directing three films, acting in a few bit TV parts, and creating an album called Chocolate Starfish and the Hot Dog Flavored Water, Limp Bizkit frontman Fred Durst is headed into new waters. Durst has signed a deal with leading network CBS to star in a new comedy. The singer will also produce alongside CBS TV Studios producers Eric and Kim Tannenbaum. If you need to know anything about the project, it's that the untitled half-hour comedy is sometimes called Douchebag, a title that is vivid, but guaranteed to be changed.
Durst is no stranger to comedy. Back in 2003 the singer was performing with Limp Bizkit when he made some ludicrous statements about being the best band in the world and called people at the concert pussies. In the moments that followed, Durst was booed off the stage, setting into motion a string of events leading to the world deciding Limp Bizkit was uncool. Thinking about that cracks me up, every time.
Durst's role at CBS won't be much different. Douchebag will focus on a popular rock artist who has to balance his musical life with his life at home. According to Deadline, Matthew Carlson is set to pen the project, which has been given a script commitment. Durst played Ogden on NBC's Revelations mini series and also guest starred as a bartender on two episodes of House, M.D., so he has some acting experience. I'm guessing he'll do better than fine playing an asshole rocker.
Your Daily Blend of Entertainment News
Thank you for signing up to CinemaBlend. You will receive a verification email shortly.
There was a problem. Please refresh the page and try again.