Liza Minnelli To Guest Star On Smash In Season 2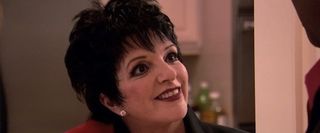 With the exception of an episode of Drop Dead Diva and Law & Order: Criminal Intent, Liza Minnelli's scripted television appearances in the last decade have been limited to one very memorable role. She played the dizzy Lucille Austero, the frenemy of Lucille Bluth. She's expected to reprise the role when Arrested Development returns for its highly anticipated fourth season next year. And it looks like we'll also be seeing Minnelli on NBC's Smash.
Smash is NBC Broadway-focused musical drama series, which is set to return for Season 2 on Tuesday, February 5 (9-10 p.m. ET). The network announced today that Minnelli will guest star as herself in the upcoming second season of the series. Her episode is titled "The Surprise Party" and she'll be singing a song with series star Christian Borle. The original song was written by the show's composer and lyricists Marc Shaiman and Scott Wittman.
Smash seems to be stacking up the talent among its guest cast for Season 2. Minnelli joins Jennifer Hudson, Jesse L. Martin and Sean Hayes among the talent set to guest star on the series next season. Given her experience on Broadway, which has earned her multiple Tony awards, not to mention her talent on screen in film and television, Minnelli is perfect for a show like this. The last time she played herself in anything, it was Sex and the City 2, which had her appearing at the wedding early on in the film. We can only guess how she'll fit into the episode. Perhaps she'll be part of the surprise in the titled "Surprise Party"?
Your Daily Blend of Entertainment News
Thank you for signing up to CinemaBlend. You will receive a verification email shortly.
There was a problem. Please refresh the page and try again.