Lone Star's James Wolk To Guest Star On Happy Endings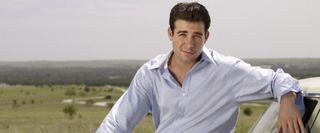 It wasn't that long ago that ABC was playing pretty close to the chest when it came to their sophomore sitcom, Happy Endings. It took quite some time to hear whether or not the show would be getting year two (hence, Damon Wayans Jr.'s brief stint on The New Girl). Then ABC decided to show almost no confidence by ordering only few more scripts - six to be exact - before finally granting the funny series its full second season. And now that Happy Endings has been given a full order, the network is lining up some great guest stars.
Less than a week ago, ABC announced that Casey Wilson's Penny would be getting a new love interest (opens in new tab) later this year to be played by the former Party Down-er Ryan Hansen. Hansen was amazing on the cancelled Starz comedy, so it does indeed look like it's the Year of Penny. But what about the Year of Max! Which, frankly, is all that anyone cares about anyway. Okay, that's unfair, but to suggest that Adam Pally isn't the series best and most liked character is ridiculous. Unless, I'm just out of the loop and have a thing for gay dudes who are basically straight (and hilarious). Well, I can't be the only one because, it seems, that there is a 'old-new' lover for Max coming later this year. No, that's not a typo, you oxymoron (yes, that was a lame joke, me actual moron).
According to TVLine (opens in new tab), one of the former flames of our man Max is going to be rekindled, and who is the lucky uh, rekindler? None other than the Lone Star himself, James Wolk. No offense to Adam Pally, but Wolk kind of seems out of Max's league and completely not his style BUT that's purely based on what I've seen the actor do before. The writers at Happy Endings could have just about anything in store for us (both in plot and character) when it comes to a(n) (ex)boyfriend of Max. It's reported that he'll be around for a few episodes, so they must have something special in store for his character.
The article also mentions that the casting news was made over Twitter thanks to the show's writers having an awesome Twitter account: @happywrites (opens in new tab). It's not only funny ("So yeah, we're on tv tonight. Watch us. Let's be a thing! #things") but also informative since it not only broke the casting news (opens in new tab) but also announced that another ABC sitcom star (opens in new tab) would be making an appearance on this evenings show. East Coasters, you already know who it is. West Coasters, have an eye! By the way, the same twitter feed spoils the cameo, like one tweet later but my lips are sealed.
Happy Endings airs Wednesdays at 9:30 p.m. on ABC. It stars Zachary Knighton, Elisha Cuthbert, Damon Wayans Jr., Eliza Coupe, Casey Wilson and Adam Pally.
Your Daily Blend of Entertainment News
Thank you for signing up to CinemaBlend. You will receive a verification email shortly.
There was a problem. Please refresh the page and try again.