Where The Happy Endings Characters Ended Up After The Finale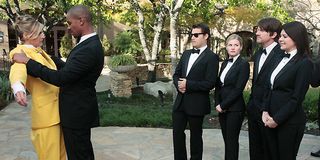 Despite only airing on ABC for three seasons, Happy Endings had an avid fanbase that really wanted the show to make a comeback on another network. So far, that hasn't happened. However, this weekend the cast did reunite for EW PopFest and were able to give fans an update on what the characters have supposedly been up to since the Season 3 finale, which aired in 2013. Some of these life updates will doubtless make you happier than others.
According to the fest panel, the group pretty much imploded in the aftermath of the series. When last we left off with our ragtag team of friends, they were dancing to Stevie Wonder at a wedding, but reports indicate that ended fast. In fact, Brad and Jane had a major argument just a few minutes later and ended breaking up. This in turn, led to the group completely falling apart, with each member going his or her separate way.
In the future, Max has lost a bunch of weight thanks to "aides"---as in a bunch of helpful interns who do work for him so he has time to hit the gym. He's also living in D.C. in the present day. His former beard, Penny, has been married more than once, per EW. After Jane and Brad's break-up, Jane moved to Japan and works for Toyota's sex doll branch of the company. Brad also moved, to Wisconsin of all places---Hello Wisconsin---and now looks like Leonardo DiCaprio in The Revenant.
But that's not the end of the formerly merry band. Alex has shockingly become successful, running a Fortune 500 company called Xela, of course. Dave later took Steak Me Home Tonight on the road after the group's implosion, but unlike Alex, his work endeavor was reportedly not so successful.
For fans of the group of friends, all of this is funny but a little bit stressful. We'd like to think that Happy Endings would get a happy ending, and despite all of the strife, it turns out that Alex ordered Scotty to fake his death, which allowed the group to come back together (although things did not end up so fortunately for Scotty). After 939 days the gang did officially reunite, and Jane and Brad got back together. Although we may not be getting a Netflix version of Happy Endings, this update is enough to remind us how much we loved the little ABC series that could.
Intriguingly, this fun update is coming a few months after show creator David Caspe said this is the direction he would like to see a reunion go in:
That's a little different than what we got with this panel episode, but it still leaves a lot for us to think about. While the cast and creative team have mostly moved on to new projects, at least we'll always have this reunion to look back on. In addition, here's where you can catch Happy Endings reruns, now.
Amazing Race & Top Chef superfan with a pinch of Disney fairy dust thrown in. If you've created a rom-com I've probably watched it.
Your Daily Blend of Entertainment News
Thank you for signing up to CinemaBlend. You will receive a verification email shortly.
There was a problem. Please refresh the page and try again.