It's Always Sunny In Philadelphia: What To Watch If You Like The Comedy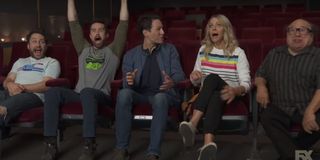 CinemaBlend participates in affiliate programs with various companies. We may earn a commission when you click on or make purchases via links.
It's Always Sunny in Philadelphia has to be hands down one of the best comedies that TV has ever seen in my opinion. With a renewal that was set for 18 seasons, the black comedy sitcom is now the longest-running comedy series ever. With ridiculous stories, characters that you just love to hate, and a great setting with plenty of quirks, It's Always Sunny in Philadelphia has proven to be a hit.
However, with how long it has taken for Season 15 to arrive on FX, fans of the show might be looking for something else to fill their time with. While you could spend your time watching the best movies on Netflix or the best movies on Amazon Prime, there are plenty of other shows just like It's Always Sunny in Philadelphia to watch right now.
Mythic Quest (2020 – Present) (Apple TV)
Co-created by one of the very creators of It's Always Sunny in Philadelphia, Rob McElhenney, Mythic Quest delivers hilarious jokes and is a great option if you're looking for a good Apple TV+ original series. The series follows a fictional game studio that produces a popular MMORPG, titled Mythic Quest, and the struggles they are going through trying to promote their new DLC for the game, "Raven's Banquet."
The series was also co-created by Charlie Day, another one of the creators of It's Always Sunny in Philadelphia, so you can almost bet that this series will be filled to the brim with dirty jokes, some inappropriate humor, and some ridiculously fun storylines. Even if video games aren't your thing, you'll love this show. I promise you. The second season just finished, so give it a watch if you haven't already.
Stream Mythic Quest on Apple TV.
Curb Your Enthusiasm (2000 – Present) (HBO Max)
Another classic comedy, Curb Your Enthusiasm stars Larry David, and follows a fictional version of his character, living his life as a semi-retired television writer/producer in Los Angeles, and all the crazy adventures that he gets into.
Larry David has to -- hands down -- be one of the most known comedians out there, so it's only natural for a show like his to have run for so long. Curb Your Enthusiasm has some awesome jokes, where you'll most likely be looking them up on YouTube later to re-watch them. I mean, the episodes are written or co-written by Larry David, so you know it's going to be hilarious. There are eleven seasons of it. If that's not good enough proof for how funny it is, I don't know what will be. For fans of It's Always Sunny in Philadelphia, you'll definitely enjoy it.
Stream Curb Your Enthusiasm on HBO Max.
Rent Curb Your Enthusiasm on Amazon.
Brooklyn Nine-Nine (2013 – Present) (Hulu, Peacock)
If you ever thought there should be a comedy about a police department, look no further than Brooklyn Nine-Nine. In this comedy, we follow the story of Jake Peralta, a young NYPD detective in Brooklyn's fictional 99th Precinct, who often comes into conflict with his commanding officers and co-workers, with hilarious hijinks often ensuing.
Let's just say that the cast of this show is really what makes it, which is how I feel It's Always Sunny in Philadelphia works. Andy Samberg has amazing chemistry with his castmates, especially with Melissa Fumero as Amy Santiago and Terry Crews as Terry Jeffords. The show was so popular that it was picked up by NBC after Fox cancelled it. With Brooklyn Nine-Nine's last season going to premiere soon, it's the best time to binge it.
Stream Brooklyn Nine-Nine on Hulu
Stream Brooklyn Nine-Nine on Peacock.
Rent Brooklyn Nine-Nine on Amazon.
The Office (2005-2013) (Peacock)
I feel like if you're a fan of comedies, you've most likely heard of The Office at some point or another, if not have seen every episode. Based on the British television show of the same name, The Office covers the daily lives of the employees at Dunder Mifflin Paper Company, with the presence of the camera acknowledged by the workers, as well as their insufferable boss, Michael Scott.
For fans of It's Always Sunny in Philadelphia, this is another case where some of these characters (led by the excellent Office cast) are truly ridiculous and they carry the show exceptionally, with some of the crazy storylines they add on. Michael Scott is this boss you love to hate, played brilliantly by Steve Carell. Dwight Schrute is this weird man with his own issues and lives on a farm, Jim and Pam are adorable – you'll always find someone to root for in this comedy.
30 Rock (2006-2013) (Peacock)
Another all-time classic, 30 Rock is one of the best shows to watch for It's Always Sunny in Philadelphia fans. Starting off the series, we follow the story of the boss of a variety show, who has to somehow manage her relationships with the show's crazy star, and the nice executive producer, all while this slowly evolves into chaos.
30 Rock, created by Tina Fey and starring her as well, is so freaking funny. There's not a single other comedy out there that has made me laugh more than 30 Rock because you're dealing with legit comedians writing these stories and intriguing scenarios. While I do have a place in my heart for dark comedy like It's Always Sunny in Philadelphia, there's just something about 30 Rock that makes it stand out above the rest. That, and the cast for this show was incredible. You need to see it just for how many stars were in it.
Arrested Development (2003 – 2019) (Netflix)
I think in terms of comedic jokes and sitcoms, Arrested Development comes the closest to matching It's Always Sunny in Philadelphia's comedic style. In this comedy, we follow the story of the Bluths, a formally wealthy yet extremely dysfunctional family, and their day-to-day lives once they start to realize that they can't do what they used to do anymore.
Arrested Development makes good use of using running gags and catchphrases, but they fit so well within the context of the show. Besides the jokes that continuously land, all of the cast rocks it in their roles, led by the talented Jason Bateman, alongside plenty of familiar faces, like Tony Hale and Michael Cera. It's not as dark as some of the other sitcoms out there, but it's definitely one of the most clever comedies, in my opinion.
Stream Arrested Development on Netflix.
Rent Arrested Development on Amazon.
Archer (2009 – Present) (Hulu)
In the first of two animated series on this list, Archer is definitely one of the best shows to watch if you're a fan of It's Always Sunny in Philadelphia. In this comedy series, we get to know the exploits of eight secret agents and supporting staff of the International Secret Intelligence Service, otherwise known as ISIS, and all their dysfunctional adventures.
The FX (later FXX) series is ridiculously silly. Anything you could expect to happen in a show like this will. Plus, it's animated, so you know there will be plenty of other possibilities in terms of what stories they can tell. There's also a good amount of emotion infused with the story, so it's not just constant jokes and action scenes, something that I believe It's Always Sunny in Philadelphia fans will enjoy immensely.
You're The Worst (2014 – 2015) (Hulu)
Another FX (later FXX) show, You're the Worst follows the story of a self-involved writer named Jimmy, and a self-destructive PR executive named Gretchen, who are both trying to attempt a relationship alongside their friends, Edgar and Lindsey. Through this, it created a never-ending cycle of craziness and plenty of fun.
What really makes You're the Worst stand out amongst other sitcoms out there is its willingness to tackle more complex issues, just as It's Always Sunny in Philadelphia has done in the past, albeit through a more comedic perspective. You're the Worst has talked about issues such as clinical depression, PTSD, and so much more. While it's not as dark or clever as some of the other comedies on this list, in my opinion, I still think it's worth your time for sure.
Stream You're the Worst on Hulu.
Rent You're the Worst on Amazon.
South Park (1997 – Present) (HBO Max)
God, this is the comedy of all comedies, in my eyes. South Park is the classic animated series that has been running for more than twenty years now, chronicling the stories of Stan, Kenny, Kyle, and Eric, four young boys in Colorado in the fictional town of South Park.
You want to talk about dark comedy, literally look no further than South Park. This is the cartoon series to watch if you're a fan of It's Always Sunny in Philadelphia. The creators of this show are not afraid to tackle some dark themes and make crazy jokes – some of which from their older episodes would probably not be okay today. Regardless, the series is iconic for a reason, and everyone should give it a shot for its hysterical jokes and interesting art style.
Happy Endings (2011 – 2013) (Netflix)
You know, now that we're at the end of this list, I'm beginning to see a trend with dysfunctional families appearing – but that's just how we roll when we're a fan of It's Always Sunny in Philadelphia. In Happy Endings, viewers get to know the story of, this time, a group of dysfunctional best friends, all of which live in Chicago.
I'm always going to be so unhappy that this show only received three seasons. It was so funny. For fans of It's Always Sunny in Philadelphia, I feel like this comedy would closely resemble the friendships we've come to love, showing how ridiculously far we would go for our friends in the case of something crazy. From crazy couples to business deals gone wrong to everything else, Happy Endings covers it all – and you'll be laughing along to it.
Stream Happy Endings on Netflix.
While we do have more shows on the 2021 fall TV schedule to hopefully look forward to soon, I still miss It's Always Sunny in Philadelphia. Even so, you might now be able to find a nice replacement for the time it's off the air. I'm going to go get a Philly cheesesteak to deal with the pain – maybe watch some Happy Endings in the meantime.
Your Daily Blend of Entertainment News
Big nerd and lover of Game of Thrones/A Song of Ice and Fire. Will forever hate season eight. Superhero and horror geek. And please don't debate me on The Last of Us 2, it was amazing!