New Girl: What To Watch If You Liked The Comedy Series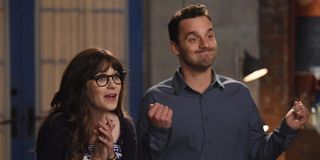 CinemaBlend participates in affiliate programs with various companies. We may earn a commission when you click on or make purchases via links.
Ever since New Girl came to an end not that long ago, I've found myself missing the great moments that the show would offer me, whether that be the shenanigans that Winston would cause with his little (or big) pranks, or the best one-liners from Schmidt, or even watching Jess and Nick be an adorable yet complicated couple. I can re-watch the show all I want, but sometimes I just need to find something else that's similar, but not the same.
But luckily, there are plenty of shows out there like New Girl with some similar themes and premises on streaming platforms like Netflix, Hulu and more. This is where you can watch crazy and kooky friends try to live their lives, all while getting into the most ridiculous of situations, some of which might be showing up soon on our 2021 fall TV schedule. From Netflix shows like Emily in Paris, to older classics, here are some shows like New Girl that I think you would like.
Shrill (Hulu)
In this Hulu original series, Shrill follows Annie, a woman who wants to change her life and make it as a journalist while dealing with bad boyfriends, parents that are sick, and a boss that makes it almost impossible to work - all while the world seems to not think she is good enough because of her weight.
Starring Aidy Bryant of Saturday Night Live fame, Shrill offers fans of New Girl the same story of a young woman just trying to make it in the world. The combination of comedy with the themes of structured society and what it means to be yourself really make this show stand out above the rest. There's no denying that this is definitely a great comedy series - but one that has heart as well.
Love Life (HBO Max)
HBO Max has been coming out with some interesting original shows since the launch of the streaming service, like the newly rebooted Gossip Girl, or the Kaley Cuoco-led The Flight Attendant. However, one of my favorites so far has been Love Life. In this anthology series, we follow a new lead character each season, from their first relationship to their very last.
If you loved the relationships in New Girl, this is a great show for you. The first season follows Anna Kendrick's character, Darby, as she looks for love, and the mix of romance and comedy makes this one of HBO Max's best shows so far. Also, the friendship between Darby and Sam (played by Zoe Chao) is to die for and I love them so much. Love Life Season 2 will star William Jackson Harper from The Good Place, according to Variety, so if you want to catch up on the series, check it out now before a new story starts!
Friends (HBO Max)
I feel like everyone has heard of Friends at some point in their lives. Friends takes place in New York City, and stars six friends in their twenties - later in their thirties - as they try to navigate their adult lives through their friendships, romantic relationships, careers, and more - getting into shenanigans along the way.
In my opinion, I don't think any other network TV program has ever become quite as big as Friends. While there were plenty of sitcoms beforehand that had friends living together, Friends became a worldwide hit and I personally believe it was the blueprint for shows like New Girl where people are living together. The chemistry between the Friends cast is great, the jokes hysterical, the storylines emotional - it's truly iconic in every way. The only thing I don't believe is that they somehow afforded that NYC apartment.
Young And Hungry (Netflix)
In Young and Hungry, Josh, who is a young tech entrepreneur, hires Gabi, a young food blogger, to be his personal chef. While some people might doubt her skills, Gabi sets out to prove her worth to her boss so she can keep her job.
I know the premise sounds a bit typical at first, but Young and Hungry is anything but. For fans of New Girl, I feel that this show has a lot of the same comedy quirks and jokes that New Girl would have, mixed in with some great-looking food and cute romances that will make you smile. Emily Osment also shines in this series as the leading lady, making Gabi truly one of those characters that you just have to root for.
Stream Young and Hungry on Netflix.
Buy Young and Hungry on Amazon.
Community (Netflix)
In Community, when Jeff Winger is disbarred from his law firm after it was discovered he was faking having a bachelor's degree from Columbia, he enrolls in Greendale Community College to earn a legitimate degree. However, when he enrolls there, he quickly becomes part of a group of students who all have their own quirky traits and characteristics.
Dan Harmon, the creator of the adult animation Rick and Morty, created Community. And let me say that if you love the comedy in New Girl, you'll adore Community just as much. Not only is the Community cast awesome and have great chemistry together, the show has a lot of heart despite never taking itself too seriously. Plus, it launched the careers of several stars, like Donald Glover, Danny Pudi and many more. Remember Abed's prediction - six seasons and a movie, so hopefully we'll be getting that movie someday, so now you have to watch it.
Jane The Virgin (Netflix)
What I love about this show is that it's based on Spanish telenovelas, so you know it's going to be dramatic. When Jane in Jane the Virgin goes to visit her gynecologist, something crazy happens. See, Jane was raised in a religious household, and wants to save her virginity for marriage. But at her visit, she is accidentally inseminated, where she inevitably becomes pregnant.
I know, the premise sounds completely ridiculous, but this CW show is truly one of its best. Gina Rodriguez is a star and rocks it in her role as Jane, with an amazing Jane the Virgin cast beside her, creating heartfelt stories with several twists that will make you either laugh, cry, or both. For fans of New Girl, this show has just the right amount of ridiculousness to keep you watching, just like New Girl had.
Stream Jane the Virgin on Netflix.
Rent Jane the Virgin on Amazon.
Happy Endings (Netflix)
Happy Endings follows six best friends, who live in Chicago, all of whom have their own dysfunctional lives and adventures, and are trying to somehow navigate through their lives thus far.
I'll get straight into it - Happy Endings almost feels a little bit like the Friends of Chicago, which makes it perfect for fans of New Girl. Honestly, it should have gone on for several more seasons besides just three. The chemistry between this cast is just amazing, especially between Damon Wayans Jr. and Eliza Coupe as a couple. Everyone plays so well off of each other and makes you laugh in the best ways. I'm still so upset that it ended after three seasons, but at the very least, you can watch it now.
Stream Happy Endings on Netflix.
The Mindy Project (Hulu)
In this series created by Mindy Kaling, The Mindy Project follows Mindy Lahiri, who works as an obstetrician/gynecologist in New York City. She tries to balance both her personal life and her professional life, all while surrounded by her co-workers in a small medical practice, who have their own fun traits and quirks as well.
I think what I love the most about this series for New Girl fans is that Mindy's character reminds me a lot of Jess, except in a totally different job field, obviously. They're both trying to do well in their careers and make the best out of bad situations while constantly trying to handle their personal issues as well. Mindy Kaling really brought her all to this series and showed off her comedy chops along with her story-writing skills.
Stream The Mindy Project on Hulu.
sRent The Mindy Project on Amazon.
Emily In Paris (Netflix)
This Netflix original series follows Emily, a girl from Chicago, who unexpectedly gets a job opportunity in Paris - hence the title, Emily in Paris. She is tasked with bringing an American perspective to a venerable French marketing firm.
Okay, controversies with this show aside - I actually do enjoy Emily in Paris and think it would be good for New Girl fans as well, because this is another situation where Emily reminds me a lot of Jess. It's this young woman who is thrown into a situation out of nowhere and has to make the best of it to somehow succeed. While they are two very different stories, I believe fans of the show will enjoy Emily in Paris - if not for the drama it brings, but for the great scenic shots you get of Paris. With a Season 2 of Emily in Paris on the way, it's definitely worth a watch.
Stream Emily in Paris on Netflix.
Friends From College (Netflix)
As the last on this list, Friends from College is anything but the least. This Netflix show follows a group of close-knit friends from Harvard who are all in their 40s, and are trying to navigate their intertwined lives, through work, romance, and several other factors.
This series is another one of those Netflix shows that I think ended too soon, because the cast for this was just outstanding. With stars like Keegan-Michael Key, Fred Savage and more in the cast, I don't know how it could get better. But what really makes this a great show for fans of New Girl are the messy romances. Yeah, you know the ones - where one person is secretly dating two people (cough, Schmidt cough) or any of the other ridiculous plotlines you could think of. I still think Friends from College could have had such a great story if it continued with more seasons, but we'll have to just deal with the two seasons we got.
Stream Friends from College on Netflix.
I know that the loss of New Girl episodes is a shame and we will all miss our goofballs in that loft in California, but at least we can fill the void with plenty of other TV shows. Now, if you'll excuse me, I'm going to go watch the Friends reunion for the umpteenth time.
Big nerd and lover of Game of Thrones/A Song of Ice and Fire. Will forever hate season eight. Superhero and horror geek. And please don't debate me on The Last of Us 2, it was amazing!
Your Daily Blend of Entertainment News
Thank you for signing up to CinemaBlend. You will receive a verification email shortly.
There was a problem. Please refresh the page and try again.