Louie Watch: Season 3, Episode 3 - Miami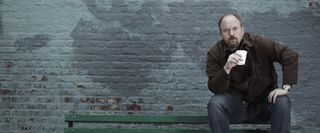 Louie gives us a wonderful little slice of life episode as we follow an unlikely friendship around the heart of the "real" Miami.
This is the second time C.K. has taken us way out of New York and while it isn't quite as amazing as Afghanistan, the episode still works as a wonderful little short film. As for comedy the episode provides a number of laughs, but I don't think that is what this episode is all about. When Louie meets Ramon, whom "saves" our lovable comedian in the ocean, the two hit it off and hangout over a couple days. Ramon takes us in and around the non-touristy/glitzy side of Miami that the south Florida city is known for and it all feels like a showcase for a world C.K. loves and adores. Louie has Hispanic roots and getting to see C.K. let them out is wonderful (ha, not a reference to the episode), especially the connection it allows him to form with Ramon and his family.
The scenes with Louie and Ramon are really sweet and as we watch Louie go deeper and deeper into the Cuban culture the episode becomes more of a documentary than a comedy. The scenes are full of life and C.K. delivers exactly what he is going for as we see a side of Miami few do. C.K. captures the material in a natural and matter of fact way that is full of non-actors that only further make the episode more authentic.
The big comedic beat of the episode is a hilarious scene between Louie and Ramon after Louie extends his trip to further hangout with his new bud. The awkwardness is palpable the instant Louie seeks out Ramon after he is supposed to have left and the battle over who can't say gay during their final moments is fantastic. Ramon is too polite to call a nice guy he is unsure about gay and Louie can't explain himself without coming off as nothing short of bring interested in the handsome young man; great stuff.
Miami is a nice change of pace for Louie and I am more than happy to see C.K. shake up the formula. Louie is a show that will always keep one on their toes and it is incredibly confident at everything it does. This week's episode is another great example that it doesn't need to be a straight comedy to be immensely entertaining and Louie was just that this week.
Favorite Lines:
-"This is bullshit."
-"You just ate a strawberry you can't have."
Your Daily Blend of Entertainment News
Thank you for signing up to CinemaBlend. You will receive a verification email shortly.
There was a problem. Please refresh the page and try again.