Louis C.K. And Dane Cook Clear The Air On FX's Louie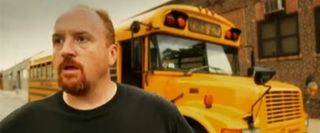 If you're not watching Louie, what's wrong with you? You are the reason that great shows get canceled and if FX doesn't continue this show as long as Louis C.K. is willing to do it, I will hunt you down (read: cry in bed). C.K. needs to have the same deal that Larry David has with HBO regarding Curb, basically if he's willing, then another season gets made. Last night, like every episode, had a few moments of greatness but one segment was truly brilliant.
For those who don't know the history between these two comedians, these two being C.K. and Dane Cook, there has been some bad blood flowing for years. Why? People who scrutinize these sorts of things, found similar bits in Cook's stand-up album Retaliation (aptly titled after this clip) and C.K.'s Live in Houston, performed four years prior.
As you can guess in the age of the internet, a melee of "thieving" accusations ensued and it hurt whatever credibility Cook had manage to muster (insert Cook lack of cred joke here). I won't say much more about the feud, because it's all addressed below, but I will say it makes for a fantastic six minutes of television. Even Cook seems on his game, or a game better than his game, as the two showmen air their grievances. Watch this clip, then go watch the show.
Louie airs on FX at 10:30 p.m. ET on Thursdays. Video courtesy Videogum.
Your Daily Blend of Entertainment News