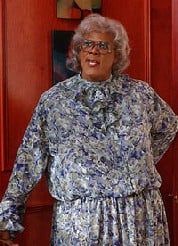 Not content to dominate the box office with hits such as Diary of a Mad Black Woman and Madea's Family Reunion, Tyler Perry is bringing his Madea character to the small screen. Unfortunately for the fat-lady latex costume industry, the larger-than-life woman is going to appear in animated form.
According to Variety, Perry, who already has a sitcom on TBS called House of Payne, is planning on producing the Madea show before he shops it around to networks. Perry is set to create, write and executive produce the animated project. The brains behind Madea says that he got the idea after hearing from fans how much their children loved the character, despite the somewhat inappropriate nature of the material. Perry says, "I wanted to do something more appropriate, and this seems to be it. A Madea animation looks like the best way."
Exodus, who is financing the project, says this about the potential series: "Exodus recognized that there was a void in the marketplace for animated properties geared toward the African-American family." So the animated version of the Madea character not only fills a void, but has a much smaller chance of giving small children life-long nightmares than the sight of Tyler Perry in seventy-five pounds of latex and pancake makeup. Sounds like a win-win.
Your Daily Blend of Entertainment News
Your Daily Blend of Entertainment News
Thank you for signing up to CinemaBlend. You will receive a verification email shortly.
There was a problem. Please refresh the page and try again.