Make It Or Break It Star Zachary Abel Takes Pilot Lead In CW's Shelter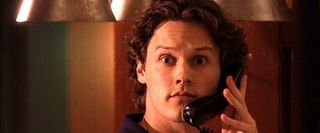 The CW had finally cast the lead in its drama pilot Shelter, after what was apparently an exhaustive search to find just the right guy. Zachary Abel of Make It Or Break It will star alongside Vampire Diaries's Malese Jow in the JJ Abrams/Mark Schwahn project about a group of resort employees.
Shelter was among three drama pilots given the greenlight by the CW at the beginning of February, and is among the last to complete the casting of the leads. The project follows the employees of the Shelter Bay Resort, a historic vacation spot in New England, as they navigate friendships, romances, and of course the ever-entertaining job of catering to the whims of guests. Abel will play one-time local baseball star Mitchell Taylor, who now works as the concierge of the hotel, says Deadline. The character is 23-year-old hopeless romantic.
Also cast in the pilot is Malese Jow of The Vampire Diaries who is set to play Morgan, a local party girl. We can expect to see some more young, pretty faces showing up for this one in true CW style, but it seems the lead role of Mitchell has been the main focus. With that out of the way, the job of filling the rest of what will need to be a successful ensemble cast can continue.
The project itself is classic CW fodder, and will need that cast to be truly remarkable. There are enough CW alums on board to know the ropes – not just Jow, but also Schwahn who was a writer on One Tree Hill. As for Abel, in addition to Make It Or Break It, he has guested on Big Bang Theory and The Secret Life of The American Teenager as well.
Your Daily Blend of Entertainment News