Marco Polo Trailer: Netflix's Series Is Bold And Ambitious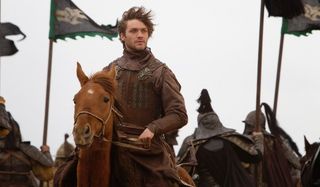 Netflix has signed on for a new, sweeping original series following none other than the explorer Marco Polo, and today we have finally been treated to an epic trailer. Marco Polo is no small-time production; instead, it's a co-venture with Netflix and The Weinstein Company that looks to be the network's most ambitious production to date. The preview shows the realism and brutality of the hostile world the famous explorer and prisoner once roamed. Check it out, below.
Marco Polo has been ordered for a 10-episode run and stars newcomer Lorenzo Richelmy as the intrepid explorer. As noted in the preview, this particular retelling of the Marco Polo legend will cover the Venetian's adventures and exploits in the court of 13th Century China's court of ruler Kublai Khan. Marco Polo seems to be a bit of a grand departure for Netflix, which up until now how has focused mainly on contemporary comedies with its original programming.
It should be noted that directors like Joachim Rønning and Espen Sandberg will be cutting their teeth on Marco Polo before they tackle Disney's Pirates of the Caribbean: Dead Men Tell No Tales due out in 2017. Historical dramas are tricky--just look at HBO's defunct Rome for evidence. However, Netflix is playing a hot hand right now and seems to be on an unprecedented winning streak with its original programming. Shows like House of Cards and Orange is the New Black have done quite well at the network, and hopefully Marco Polo will find the same level of success. At the very least, the debut of Polo will mark a big new chapter in the streaming service's development. After watching the trailer several times, you realize that there is not much like this on TV right now and that, along with the show's pedigree, are enough reasons to add it to your personal TV queue.
The trailer has the feel of a Ridley Scott epic and looks to capitalize on the sweeping drama of films like Gladiator and the upcoming holiday spectacle Exodus: Gods and Kings. The original series will also cover historical battles and themes, and of course some romance. One thing I noticed during the trailer is the size, scope and ambition of the project, which should continue to help legitimize the hour-long streaming drama from outfits like Netflix and Hulu. The cinematography is breathtaking and Netflix seems to be really expanding its vision. The more streaming fans out there, the better, especially around the holidays when streaming devices like Roku, Apple TV & Amazon Fire should take off in sales.
The dramatic adventure is set to debut on Netflix on December 12th and is looking to capitalize on the streaming service's loyal audience. Netflix already has several series in their sophomore seasons and the pedigree for Polo is excellent, including executive producers and directors from hits like Game of Thrones and True Blood. The show was created by Young Guns and Hidalgo writer John Fusco, who has also signed on as the executive producer.
Your Daily Blend of Entertainment News