Mark Wahlberg Has High Hopes To Turn Contraband Into A Reality Series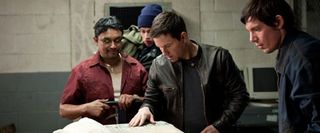 Mark Wahlberg has not decided to slow down any opportunities to do television work after Entourage ended its tenure on September 11. The man already has plans for a series about his family-run diner, where his brother is head chef. Perhaps just for the title, I hope Wahlburgers goes to series. Now, the actor and producer has a second reality project in the works.
The idea for the new series comes from Wahlberg's recent work on the film Contraband. The movie opens on January 13, and is about a former smuggler who has to protect a relative after a bad run-in with a drug lord. While filming, Wahlberg witnessed some crazy stuff he believes would be perfect fodder for television. The actor spoke out about some of the things he was privy to on set toW.E.N.N.
While it would be interesting to look into the "cat and mouse" game that is involved with smuggling, so far the tentatively titled Port of L.A. is more of an idea than a concrete television show. There's a lot of logistics that would have to go into figuring out what and how to relay crime to a television format, although Wahlberg says he would like the show to be a "docudrama." Luckily, having a concrete idea and a good title is a good enough starting point for a pitch.
TV Blend will keep you posted on whether or not someone figures out how to film Wahlberg's Port of L.A.
Your Daily Blend of Entertainment News
Thank you for signing up to CinemaBlend. You will receive a verification email shortly.
There was a problem. Please refresh the page and try again.