Mary Lynn Rajskub Returning For 24: Live Another Day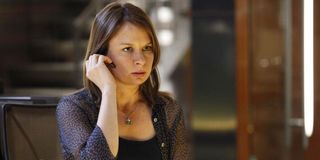 Mary Lynn Rajskub is kind of a jack-of-all-trades in the world of television. The woman has guest-starred on nearly every television show (alright, maybe not every, but seriously check out her IMDB page). However, she's probably most famous for her gig on Fox's 24, where she played the loyal and intelligent Chloe O'Brian. Her character appeared in more episodes of the series than any other, save for Kiefer Sutherland's Jack Bauer, and it only makes sense that Rajskub would sign on for 24: Live Another Day. However, it took Fox until Thursday to make her role official.
Back in May, the world was abuzz with 24: Live Another Day news. Kiefer Sutherland confirmed he would return to the series to play Jack Bauer and then David Fury also announced he would be returning to team up with Howard Gordon on the production end. While all of these confirmations were taking place, poor Rajskub was busy hanging out on Conan and talking about wanting to return.
It took until the summer TCA panel for Fox to make the announcement, but according to Deadline, Rajskub will now officially reprise her role as Chloe O'Brien in the series. O'Brian was initially introduced on 24 in Season 3. At first her relationship with Bauer is a little rocky, but she shows great competence and tenacity with any task she is given and over time she and Bauer become trusted colleagues. Chloe's always been kind of a fan-favorite character, getting shit done behind a desk while Jack is out dealing with random problems, and most fans probably can't wait to see where her character will go in the new season. Rajskub herself also seems pretty stoked to be reprising her character.
Who wouldn't be excited about reprising a role as a computer nerd who occasionally gets to brandish some major firepower?
Rajskub is the second returning character officially signed on to 24: Live Another Day. However, rumor has it that some other characters from the original series will also be returning, with Kim Raver's name at the top of the pile. It could still be quite a while before we hear whether or not other characters from 24 will return for the limited series. The 12-episode, real-time narrative isn't expected to hit Fox's schedule until the spring of 2014. We'll let you know as soon as Fox announces a premiere date.
Amazing Race & Top Chef superfan with a pinch of Disney fairy dust thrown in. Theme park junkie. If you've created a rom-com I've probably watched it.
Your Daily Blend of Entertainment News
Thank you for signing up to CinemaBlend. You will receive a verification email shortly.
There was a problem. Please refresh the page and try again.