Meet The Top 18 American Idol Men Of Season 8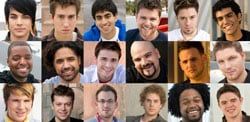 The Hollywood rounds are over and now we're down to the top 36 American Idol contestants. Some of the auditioners got a bit more screen-time than others so we've put together a list of the top 18 guys and we've included their video interviews so you have the chance to acquaint yourselves with them before we get on to the next round when Idol airs next week!
Below is the rundown on Season 8's top 18 male contestants. The information was provided by Fox. Click here to check out the girls' information and their video interviews!
Adam Lambert
Hometown: San Diego, CA
Currently Resides: Los Angeles, CA
Age: 26
Lambert grew up in San Diego but currently lives in Hollywood. He began singing at age 10, and has been involved with musical theater for the past eight years.
Alexander Wagner-Trugman
Hometown: Studio City, CA
Currently Resides: Studio City, CA
Age: 19
Wagner-Trugman is a sophomore at the University of Miami. He began singing in high school, and he plays piano and guitar. His hobbies include playing video games and basketball.
Anoop Desai
Hometown: Chapel Hill, NC
Currently Resides: Chapel Hill, NC
Age: 22
Desai is working on his master's degree at the University of North Carolina. During his undergraduate years, he was a member of the UNC Clef Hangers, an a cappella group.
Brent Keith
Hometown: Blanchester, OH
Currently Resides: Nashville, TN
Age: 29
A guitar player, Keith lives in Nashville, TN, with his wife. He has been singing all his life but started performing publicly when he was 13 years old.
Danny Gokey
Hometown: Milwaukee, WI
Currently Resides: Milwaukee, WI
Age: 28
Gokey is the president and founder of a non-profit organization. In addition to singing, he plays the piano and loves salsa dancing.
Jorge Nuñez
Hometown: Cidra, Puerto Rico
Currently Resides: Carolina, Puerto Rico
Age: 21
Nuñez is in his fourth year at the University of Puerto Rico, Río Piedras. In addition to English and Spanish, Nuñez is also fluent in French.
Ju'Not Joyner
Hometown: Baltimore, MD
Currently Resides: Bowie, MD
Age: 26
A native of Maryland, Joyner owns his own business with his fiancée. He enjoys acting, comedy and songwriting.
Kai Kalama
Hometown: Redlands, CA
Currently Resides: San Clemente, CA
Age: 27
Kalama began singing when he was 5 years old at his church. An accomplished musician, he also plays guitar, ukulele, bass, piano and drums.
Kris Allen
Hometown: Jacksonville, AR
Currently Resides: Conway, AR
Age: 23
Allen is a student at the University of Central Arkansas. He has been singing and playing the guitar since he was 13 years old.
Matt Breitzke
Hometown: Bixby, OK
Currently Resides: Bixby, OK
Age: 28
Breitzke spent his childhood in Hobart, IN, and later attended flight school in Tulsa, OK. He has been singing and playing the guitar since the fifth grade.
Matt Giraud
Hometown: Ypsilanti, MI
Currently Resides: Kalamazoo, MI
Giraud is a life-long resident of Michigan who graduated from Western Michigan University in 2007. He sings and plays piano in local clubs and hotels.
Michael Sarver
Hometown: Jasper, TX
Currently Resides: Jasper, TX
Age: 27
Sarver is married with two children and works on an oil rig. He has always dreamed of being a singer/songwriter. Sarver also plays the piano, drums and guitar.
Nathaniel Marshall
Hometown: Malone, NY
Currently Resides: Malone, NY
Age: 19
Marshall began singing at age 2, and sang publicly for the first time in his high school choir. He is a cosmetology student in New York.
Nick Mitchell
Hometown: Brookfield, CT
Currently Resides: Brookfield, CT
Age: 27
Mitchell attended Marymount Manhattan College and Western Connecticut State University. He is a sketch comedian who performs in Manhattan and Connecticut.
Ricky Braddy
Hometown: Nashville, TN
Currently Resides: Elizabeth City, NC
Age: 25
Braddy graduated from Belmont University in Nashville, TN, with a degree in Commercial Vocal Performance. He began singing when he was 4 years old at his church.
Scott MacIntyre
Hometown: Scottsdale, AZ
Currently Resides: Scottsdale, AZ
Age: 23
MacIntyre earned his bachelor's degree from Arizona State University at age 19, and attended graduate school in London, England. He also plays piano, guitar and drums.
Stephen Fowler
Hometown: Cleveland, OH
Currently Resides: Beachwood, OH
Age: 26
Fowler has been married for six years and has two sons. He has been singing his entire life, and began playing piano at 11 years old. He is a full-time musician who teaches piano at the Rainey Institute in Cleveland.
Von Smith
Hometown: Kansas City, MO
Currently Resides: Greenwood, MO
Age: 22
Smith plays piano and is fluent in Spanish. His other hobbies include dancing, acting and songwriting.
Below are the video interviews for the 18 male contestants. Just click the playlist option to view the menu list!
Kelly joined CinemaBlend as a freelance TV news writer in 2006 and went on to serve as the site's TV Editor before moving over to other roles on the site. At present, she's an Assistant Managing Editor who spends much of her time brainstorming and editing feature content on the site.
Your Daily Blend of Entertainment News
Thank you for signing up to CinemaBlend. You will receive a verification email shortly.
There was a problem. Please refresh the page and try again.