Merlin's Santiago Cabrera To Guest Star On Dexter For Season 7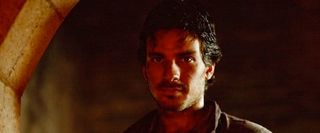 Showtime has already begun teasing the upcoming seventh season of their popular serial killer drama Dexter, and last week, we got our first good look at the season premiere, with a video that debuted at Comic Con showing us the two minutes or so that followed the scene that closed out Season 6. After a couple of vague teasers, this video delivered the goods… and then left us hanging again. But that's ok. Patience is a virtue and one even Dexter has demonstrated on numerous occasions. Until the next bit of video makes its way online, we'll have to get by on casting updates for Season 7. Today, that comes in the form of the announcement that Santiago Cabrera is joining the series in Season 7.
Entertainment Weekly posted the news, stating that the Chilean actor has signed on for a couple of episodes to play Ethan Price, "a charming investigative writer of true crime books about famous murder cases." No word yet on what cast he's investigating, but as EW points out, there doesn't seem to be any shortage of murder cases in Miami on Dexter these days.
If you've seen NBC's Heroes, you may remember Cabrera for his role as the painter Isaac Mendez, but more recently he played the part of Lancelot in BBC's Merlin (a series I really need to check out), and he had a part in the pilot episode of Fox's short-lived Alcatraz. He joins Chuck's Yvonne Strahovski and Rome's Ray Stevenson among the newcomers set to appear in Dexter when the series resumes for Season 7 on September 30.