Meryl Streep's Daughter Mamie Gummer Cast In First Cut Pilot At The CW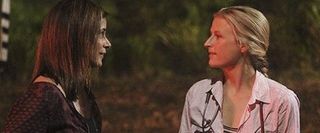 When your mom is Meryl Streep, you have a serious acting legacy to live up to. With Meryl having just accepted her third Oscar, daughter Mamie Gummer is working hard to meet her mother's standards. Getting cast in her first pilot lead is a step in the right direction. It's no Sophie's Choice, but Gummer has landed a starring role in the CW's First Cut.
Deadline reports that Mamie Gummer has been cast in the medical drama as a doctor fresh out of medical school who finds life working in a hospital to be somewhat different from what she expected. The description of the project as being about a nerdy doctor who finds out the professional medical world is an awful lot like high school brings to mind Scrubs. Except that this project is supposed to be a drama.
Gilmore Girls writer Jennie Snyder Urman is writing the script for the pilot, and is on as co-executive producer with Dan Jinks. First Cut sounds like an ensemble project, so I except we'll find out who will be sharing the camera with the daughter of the woman who is arguably the greatest actress alive. Mamie has been working on her television credits, with multi-episode arcs on The Good Wife and was a regular on ABC's Off the Map where she conveniently also played a doctor. Although I find myself a little confused as to whether First Cut is more Grey's Anatomy or more Scrubs, the project seems to have potential. We'll see if it gets picked up to series.
Your Daily Blend of Entertainment News
Thank you for signing up to CinemaBlend. You will receive a verification email shortly.
There was a problem. Please refresh the page and try again.