Michael Bay's The Last Ship Adds Five To The Cast Including Michaela McManus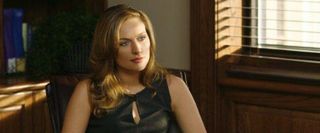 Michael Bay, the filmmaker known best for some of the biggest of blockbuster movies, has recently found time to focus his efforts on a few potential television series. Well, the man behind Transformers won't actually be getting behind the camera for either of the two projects (the screen is probably too small) but he is using his clout to executive produce an eight-episode (so far) prequel to "Treasure Island" called Black Sails for Starz as well as developing another nautical themed pilot at TNT called The Last Ship.
The Last Ship, regrettably titled too close to the ABC naval adventure Last Resort, is based on a popular novel by William Brinkley about the crew of a naval destroyer who are (possibly) the only survivors after a global catastrophe befalls Earth. The pilot is written by Without A Trace's Hank Steinberg and The Closer's Steven Kane, and will be directed by Terminator 3's Jonathan Mostow. It has just started casting and, according to Deadline, already filled five key roles.
Michaela McManus, Charles Parnell, Travis Van Winkle, Christina Elmore and Sam Spruell have all joined the pilot for The Last Ship as crew members aboard the USS Nathan James. McManus, coming off Awake and Necessary Roughness, will run the Combat Information Center and missile deployment as Lt. Jackie Makena. Parnell, who has had several guest spots on series like CSI: Miami, is Command Master Chief Hugh Jeter. Van Winkle, from Bay's Transformers, is Danny Green, the leader of a small crew of SEALS. Newcomer Elmore will co-steer the ship Lt. Alisha Granderson and finally, Spruell, who was in Snow White and the Huntsman is on board as a paleomicrobiologist named Quincy.
Your Daily Blend of Entertainment News
Thank you for signing up to CinemaBlend. You will receive a verification email shortly.
There was a problem. Please refresh the page and try again.