Michael Phelps Makes An Appearance On Entourage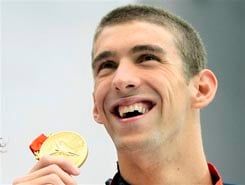 Earlier today, we reported that Olympics phenom Michael Phelps will be appearing on Saturday Night Live as the first host of the new season.
Well, I took my son to karate, and when I got back I visited EOnline , and to my surprise, there is another show that will be featuring the multi-medaled swimmer. Entourage is filmed in NYC and apparently Phelps just happened to be in the neighborhood. The golden boy "shot a "spontaneous" cameo with the cast of the HBO hit in New York City earlier this morning. No further details on the episode or when it will be airing were available. The new season begins Sept. 7."
I am sure that Mr. Phelps will be appearing all over the TV for the rest of the season. He's got a lot of collateral, and people can't get enough of him. Get used to the big goofy grin…I just hope he will grow his hair out.
Your Daily Blend of Entertainment News
Thank you for signing up to CinemaBlend. You will receive a verification email shortly.
There was a problem. Please refresh the page and try again.