Michael Pitt Called The Boardwalk Empire Ending Months Ago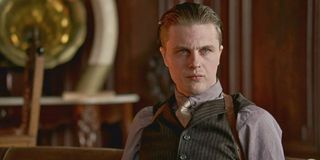 If you haven't caught Boardwalk Empire's series finale, we highly suggest you turn away right now. There are spoilers from the finale starting in the next paragraph. Everyone still here? Alright, here we go.
Last night, Boardwalk Empire aired the final episode of the drama's final season. The episode settled the matter of Nucky Thompson's fate for once and for all, in a scene that tied up loose ends and explained all of the flashbacks that were written into the final season. Nucky sat down to have a coffee and dish some advice out to his seemingly wayward former errand boy, Joe Harper, only to find out that Joel was in fact a teenaged Tommy Darmody, and he had been seeking revenge since he showed up on Nucky's doorstep during Season 5. It's an ending that wrapped up the series in a neat little package, but what's more impressive is it's an ending that former Boardwalk Empire star Michael Pitt called several months ago.
Way back in July, before Boardwalk Empire had even begun airing its fifth and final season, Pitt spoke to E! about the then impending finale. Here's what he had to say about his dream ending for the series.
Pitt, who played Nucky's protégé Jimmy Darmody on HBO's Prohibition Era drama, was killed off at the end of Season 2. He was not a part of Boardwalk Empire's later seasons, but he apparently still had an incredible pulse on the tone and the pace of the show. I'm not sure how many other non-writers on the show could have come up with that ending.
Still, most everyone had a feeling that Nucky was going to bite it in the last episode. The Season 5 slogan, after all, was "no one goes quietly," and after Nucky survived the takeover of his Atlantic City enterprise and the various attacks on his life, those who still felt his death was imminent had to guess the writers had gotten creative with the ending. While we all knew there was something a little off about the eager-to-please Joe Harper, I'm not sure how many people were prescient enough to see the Tommy Darmody ending happening. Except apparently Michael Pitt, who called that ending months in advance.
The Boardwalk Empire finale took a stroll through history, showing fans the origins of Lucky Luciano's criminal empire and the rise of the big crime families in New York, as well as the trial of the one and only Al Capone. It capably tied up loose ends and gave us an ending tying the entire fifth and final season together. Our own Jesse Carp called it a "writerly" ending, and I think it's the perfect way to note the finale was simultaneously perfect and disappointing (at least when it comes to revealing Tommy Darmody's fate). It definitely still ranks in the annals of Boardwalk Empire deaths.
Reality TV fan with a pinch of Disney fairy dust thrown in. Theme park junkie. If you've created a rom-com I've probably watched it.
Your Daily Blend of Entertainment News
Thank you for signing up to CinemaBlend. You will receive a verification email shortly.
There was a problem. Please refresh the page and try again.