Michelle Obama And Jimmy Fallon Face-Off With Physical Challenges On Late Night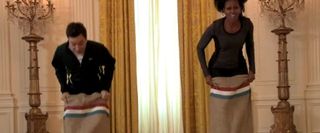 I've come to develop an appreciation for the goofier segments on late night television. In fact, after a long day, there's little I enjoy more than sitting back and watching Conan, Kimmel and Fallon deliver their opening monologues and whatever silly segments they might have packaged for us. In the case of last night's Late Night with Jimmy Fallon, first lady Michelle Obama got in on the act for a segment related to her "Let's Move" children's fitness initiative.
It seems likely that the First Lady's willingness to participate in the segment was to build awareness of her program, and maybe Fallon made the most of that by making sure she was actively (literally) involved in the bit. Following a comment she made about making a fool of herself for the sake of her program, Fallon paid a visit to her and here's what happened....
I wouldn't say she makes a fool of herself, but she does demonstrate her willingness to have fun by showing off her lighter side and sense of humor for the sake of her cause. What do you think? Funny or just silly?