The Mindy Project, New Girl And Raising Hope Renewed For New Seasons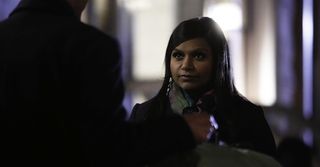 The Following isn't the only Fox series to receive an early renewal. Freshman comedy The Mindy Project has also been given the thumbs up for a second season, as has Raising Hope and New Girl, which locks down the three Tuesday night comedies, and leaves room for a fourth, assuming Fox is still planning to continue airing two hours of comedies on Tuesday night (or some other night during the week).
Of the three comedies, Mindy Kaling's comedy The Mindy Project is the newest, having premiered on Fox last fall. After that, it's Liz Meriweather's New Girl, which is in its second season, and now renewed for a third. Finally, there's Greg Garcia's Raising Hope, the lone family comedy of the bunch, which is in its third season, and will be back for a fourth in the 2013-2014 season. Ben and Kate was the fourth comedy in the two-hour block, but it was previously cancelled.
The next new episodes of New Girl and The Mindy Project aren't scheduled to air until March 12 (next week). We'll be waiting a bit longer for Raising Hope to return. But on the bright side, the series will deliver two back-to-back episodes for its finale, which is scheduled to air Thursday, March 28 from 9:00 p.m. to 10:00 p.m. and there will be some guest stars in the episode. Here's Fox's official description for "Burt-Mitzvah" and "Mom's Day."
The news of renewals of New Girl, Raising Hope and The Mindy Project came along with word that The Following was going forward toward a second season.