The Following Renewed For Season 2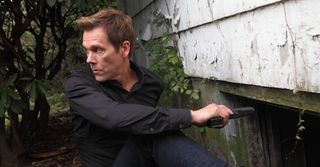 Fox's psychological thriller The Following has been delivering steady ratings, dipping only slightly from its series premiere of more than 10 million viewers. So while it's not especially surprising to learn that the network has decided to give it an early renewal ahead of the spring, it's certainly good news for those of us who have grown used to looking forward to Mondays to see what happens next to Joe Carroll's creepy followers and Kevin Bacon's Ryan Hardy, the man trying to track them down.
Fox announced today that they've renewed The Following for a second season. Kevin Williamson's series is six episodes into its first season, with Episode 7 ("Let Me Go") set to air tonight. Tonight's episode is the first of nine remaining episodes of the first season. While the network's announcement doesn't specify, Season 2 will presumably pick up next winter, unless the network decides to move it to the fall.
The Following stars Kevin Bacon and James Purefoy, the former being FBI's Ryan Hardy and the latter, the serial killer whose cult-like following is making mischief while he's locked away on the inside, somehow still managing to pull the strings. The drama borders on over-the-top at times, but that's sort of part of the fun. It's suspenseful, puzzling and exciting all at once. And as last week's episode proved, it has a sense of humor about itself, as we saw Kevin Bacon antagonizing the trio of Carroll-followers who were almost too caught up in their own drama to function and keep on task. Of course, a lot of people ended up getting shot in that episode, so we might want to keep in mind, if there's reason to smile in an episode, we might pay for it later with horror.
Here's Fox's description for tonight's episode.
The fact that Renee Elise Goldsberry is listed as a "guest star" leads me to believe something horrible is in store for her character Olivia, who has already lost a few fingers to Carroll's cause.
The Following airs Mondays at 9:00 p.m. ET on Fox.
Your Daily Blend of Entertainment News
Thank you for signing up to CinemaBlend. You will receive a verification email shortly.
There was a problem. Please refresh the page and try again.