Monk's Final Episode Airs Tomorrow Night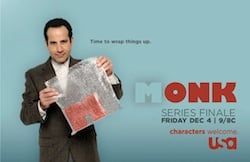 Tomorrow night, USA is set to air the last episode of Monk. While I'm sad to see the series go, I doubt I'm alone in being very excited to see how the series wraps up.
For eight seasons we've all been left to wonder what happened to Monk's wife Trudy and tomorrow night we'll finally have all the answers. Added to that, Monk's life is hanging in the balance as he's been poisoned! Is he going to escape death or will the series end with Monk headed off to reunite with Trudy after putting her murder mystery to rest?
Below is a great new promo for the series finale, which airs Friday, December 4, 2009 at 9:00 p.m. ET on USA. Or, if you want a more spoilery look at the last episode, CLICK HERE for some clips!