More Cast Changes For Stargate Atlantis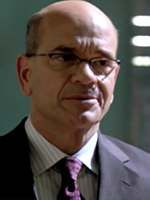 The cast changes keep coming for Sci Fi Channel's Stargate Atlantis. Season Four of the Stargate SG-1 spinoff kicked off last year with Amanda Tapping replacing Torri Higginson as commander of the Atlantis expedition. Now, according to Zap2It, veteran sci-fi actor Robert Picardo has been cast to replace Tapping, who'll be busy filming a Sci Fi Channel version of her Web series Sanctuary.
Picardo, best known as the egotistical holographic Doctor on Star Trek: Voyager, will officially join the cast and start filming episodes for the fifth season of Atlantis later this month. Picardo has previously guest-starred on SG-1 and Atlantis as Richard Woolsey, a representative of the International Oversight Committee and a constant pain in the ass for Lt. Colonel John Sheppard (Joe Flanigan) and crew. The appointment of Woolsey as Atlantis' head honcho is an unexpected but welcome change for this series. Replacing Tapping's dull Colonel Carter with Picardo's contentious bureaucrat is sure to spark some life into Atlantis, which has been floundering ever since Higginson's exit. Picardo talked to Gateworld about his character back in 2006. Here's what he had to say about Woolsey and his experience in the Stargate universe:
"I read the first script and I seemed like, kind of, a bad guy -- but he seemed to be at least an honorably-intentioned bad guy. He meant well. ... Producers Joe Mallozzi and Paul Mullie are also fans of mine, as I am of their work. And they seem to enjoy having me back. The character has become more layered and considerably more sympathetic than his first appearance."
Tapping will guest star as Carter in a few Season Five episodes. Season Five will also see the return of Michael Shanks' Dr. Daniel Jackson from Stargate SG-1 and fan favorite Paul McGillion as Dr. Carson Beckett. McGillion, who makes his first return to Atlantis in a Feb. 22 ep after being killed off in Season Three, is slated to guest star in five eps next season. Check out this photo gallery to get a sneak peak at McGillion's return.
Your Daily Blend of Entertainment News
Thank you for signing up to CinemaBlend. You will receive a verification email shortly.
There was a problem. Please refresh the page and try again.