More Wives, More Viewers? Young Female Viewers Choose Sister Wives Over The Good Wife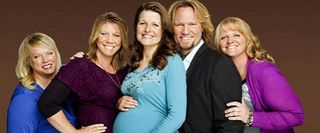 If you want to draw in the female viewers, you're going to need more wives. That's apparently the lesson to be learned from the premiere of Sister Wives Sunday night, which performed remarkably well, creating a banner night for the Lifetime network. In fact, shows with only one wife just can't seem to compete for the young female viewership arena; CBS The Good Wife was outstripped by the polygamous reality show The Hollywood Reporter pointed out.
2.8 million viewers tuned in to catch the third season premiere of Sister Wives, the reality show that gives us a glimpse into a way of living that most of us can't even imagine. The fundamentalist Mormon Brown family is comprised of Kody Brown, his four wives and their 16 children – so far. Their polygamous lifestyle is apparently a subject of intense curiosity, since the show is holding strong the ratings heading into season three.
It must be all the extra wives. The Good Wife, singular, pulled in a 1.6 rating in the women 18-34 demo, far below the 2.3 Sister Wives claimed. Maybe you really do need more wives to get things done. In fact, the multiply married Brown and his crew drew in good ratings from other female demographics as well. Women are flocking to the series in droves it seems, and although I would guess most of them are not looking to add another wife to their household, they're certainly curious enough about it.
The Good Wife is still doing better in the ratings overall, but imagine how much better they could do with a few extra wives?
Your Daily Blend of Entertainment News
Thank you for signing up to CinemaBlend. You will receive a verification email shortly.
There was a problem. Please refresh the page and try again.