Mr. Selfridge Review: ITV's Drama Needs More Heart, More Humor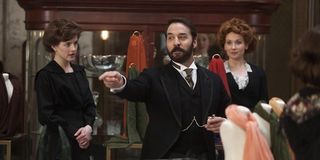 Mr. Selfridge might well have been a series that flew entirely under the American radar were it not for a few factors; first, that it focuses on an American entrepreneur, second, that it stars Entourage's Jeremy Piven, and finally, that it's a British series set in the same time period as the incredibly successful Downton Abbey. The two-hour premiere of the series leaves me wondering if any of those things will have much impact on its success on this side of the pond.
Starting out in 1908, Mr. Selfridge tells the true tale of Harry Gordon Selfridge, an American businessman whose department store revolutionized the way we see shopping. The series begins as Selfridge waltzes into a London department store and proceeds to get a shopgirl fired; thus we meet the newly unemployed Agnes Towler (Aisling Loftus), who will find herself soon hired at Selfridge's. Meanwhile, Jeremy Piven continues to sweep his way through life with a grin plastered on his face and confidence in his success – at least to all outward appearances. In the first two hours we see only the odd glimpse of what might be behind that mask.
As Mr. Selfridge goes to great lengths to make his dream come true, he leaves his wife (Frances O'Connor) adrift and draws into his sphere the haughty Lady Mae (Katherine Kelly) and Ellen Love (Zoe Tapper), a showgirl with big ambitions. While it may not be fair to compare Mr. Selfridge to Downton Abbey, the setting makes it difficult to avoid. The lives of the store's employees, their petty rivalries and secret lives often reminded me of the staff at Downton, although the sharp contrast between them and the wealthy around them isn't as evident. What Mr. Selfridge lacks is the comic relief brought by a character like the Dowager Countess of Grantham (Lady Mae tries, but mainly captures the attitude without the laughs), but more than that it seems to lack the heart. There are signs, however, that future episodes may give us more depth.
Mr. Selfridge just finished up its first season run overseas on ITV, and has already been picked up for Season 2, so it's clear the series is doing well in the U.K. I have to wonder if it will see the same success here, perhaps because Selfridge himself is almost caricature of the overconfident stereotype of an American who believes the world should be his for the asking, a view most Americans don't find all that flattering. It becomes clear, however, that his man is a very particular and unusual person, and the feeling of watching a stereotype brought to life fades as you watch. Like Downton, Mr. Selfridge aired two episodes in one for the season premiere – a good choice in this case. That second hour is where the characters start to develop. If they continue that way, this series has promise. Whether or not it can come into its own free of the looming shadow of Downton is yet to be seen.
Mr. Selfridge airs Sundays at 9 p.m. EST on PBS.
Your Daily Blend of Entertainment News
Thank you for signing up to CinemaBlend. You will receive a verification email shortly.
There was a problem. Please refresh the page and try again.