Mr. Selfridge Renewed For Season 2 By ITV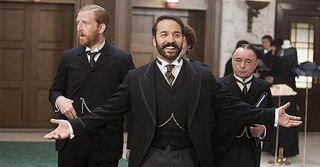 We haven't even had the chance to get a look at Season 1 here in the U.S., but the British ITV series Mr. Selfridge, starring Jeremy Piven, has earned itself a second season already. From what I've been hearing from friends across the pond, Downton Abbey fans are going to love this one when it hits American TV on PBS next month.
Mr. Selfridge centers on American department store magnate Harry Selfridge, whose new thinking about the female shopping experience revolutionizes retail. It launched just last month overseas to a good reception and steady ratings. Today Deadline confirmed that the series has been given the go-ahead for another season, which apparently they were pretty confident about since they had already started writing the new episodes. The second season order is for another 10 episodes to match the first season.
The show is bound to draw some comparisons to Downton; it begins around a similar time period (Downton started with the sinking of the Titanic in 1912, while Mr. Selfridge's first season starts off in 1908) and has some of the same themes of the very different lives of the upper and lower classes. In this case, it seems we will see both the lives of the store's employees as well as the store's clientele, making for a similar upstairs/downstairs feel to that of Downton.
Unlike with Downton, though, we won't have as long a wait to see it over here. PBS will premiere the first season on March 31st at 9 p.m. EST, only a few weeks after it wraps in the U.K. It also starts just after Season 3 of Downton wraps on PBS and will take over its time slot.
Your Daily Blend of Entertainment News