NBA Finals Does Best Ratings In Twelve Years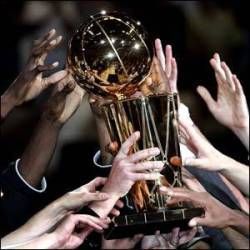 Maybe people wanted to see Kobe Bryant lose for the same reasons so many rooted against Michael Jordan in the 90's. Maybe the Lakers-Celtics rivalry still carries enough clout to get the average sports fan interested in a little Game 7 action. Maybe it was Thursday night and a bunch of people thought they were switching on Grey's Anatomy on ABC. Whatever the reason, the NBA Finals did some huge ratings numbers last night. According to Deadline, an average of 28.2 million viewers tuned in to see Kobe Bryant win his fifth (and hopefully last) championship ring. An 11.4 share of adults ages 18-49 were able to see Ron Artest thank everyone from his wife, to his hood, to his psychiatrist, for his chance to win a title.
This NBA championship did its highest TV ratings in twelve years (Jordan's Bulls vs Jazz), and was the best rated basketball finals for ABC. It makes it easier being up against little summer programming, but a dynamic matchup, game seven intrigue, a mega-star like Kobe and a Boston-LA rivalry helped bump these numbers to the next level.
Doug began writing for CinemaBlend back when Terminator: The Sarah Connor Chronicles actually existed. Since then he's been writing This Rotten Week, predicting RottenTomatoes scores for movies you don't even remember for the better part of a decade. He can be found re-watching The Office for the infinity time.