NBC 2012 Midseason Premiere: Smash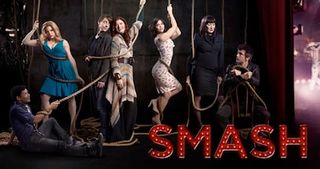 Because apparently, TV can't have enough shows featuring people singing, NBC is set to premiere the new musical drama Smash sometime during Midseason 2012. If Glee has taught us anything, it's that there's no shortage of drama among vocally gifted teens. Smash appears to take things to the next level as the musical drama explores Broadway ambitions and life in the big city.
I still watch Glee but I'm not entirely sure I need any more musical drama in my life right now. With that said, Smash doesn't premiere until next year, which means there's time to look forward to this show. One of the biggest selling points (for me, anyway) is Angelica Huston. I've loved (and secretly feared) her since Witches and can't wait to see how she does in this new NBC series. American Idol fans will also be interested to know that former contestant Katharine McPhee is starring in this series.
Below is NBC's synopsis for the show and further down is a clip from the show.
Smash will begin airing Mondays at 10/9c on NBC this Midseason 2012.
Follow Smash on Twitter.
CLICK HERE to view NBC's Fall 2011 Primetime Schedule.