NBC To Air National Dog Show This Thanksgiving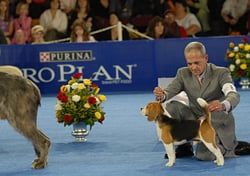 This Thanksgiving, following the Macy's Thanksgiving Day Parade, NBC will air The National Dog Show Presented by Purina. The show is hosted by John O'Hurley and features more than 150 breeds and varieties of dogs as they prance around the floor with their owners, showing off their training and breeding in the hopes of being declared the greatest dog ever.
Having grown up with an Irish Wolfhound as a family pet, I happen to think they're the best dogs ever, so I'm happy to see that they're among the breeds that will be featured at the Dog Show this year but at the same time, watching the clips below it's hard to deny that there are plenty of genuinely amazing canines out there. Watching the clips below also makes me want to watch Best In Show. Dog-people are funny.
The National Dog Show Presented by Purina will air Thursday, November 27th (Thanksgiving) at 12:00 noon – 2:00 PM (all time zones) on NBC.
Your Daily Blend of Entertainment News
Thank you for signing up to CinemaBlend. You will receive a verification email shortly.
There was a problem. Please refresh the page and try again.