NBC Picks Up Playboy Club, Inception-Style Awake, And Fairy Tale Cop Drama Grimm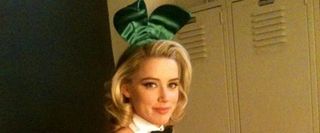 The Peacock Network's fall schedule is shaping up to be an interesting and eclectic one, with EW reporting NBC green lights for a period drama set in the infamous Playboy Club, a parallel-lives detective drama, and a gritty spin on Grimm's Fairy Tales.
The Playboy Club has been generating a lot of buzz leading up to the upfronts, not least because the cast, including Amber Heard, were asked to sign off on nudity clauses. Don't expect an NYPD Blue-style kerfuffle, though: any potential nude scenes will likely be held back for the eventual DVD release. The script is from Chad Hodge, who has written for shows such as Tru Calling and the short-lived Veritas: The Quest, so this one could go either way: Mad Men-esque period awesomeness or gimmicky flash in the pan.
Described as "Inception for TV," Awake stars Jason Isaacs as a detective living out two lives in two separate realities. In both realities, he and his family are in a horrible accident. In one, however, his wife survives and his son dies; in the other, those fates are reversed. Kyle Killen, screenwriter of the Mel Gibson puppet dramedy The Beaver wrote the script, and former 24 showrunner Howard Gordon is exec producing.
Finally, Grimm is a cop drama set in a world inspired by Grimm's Fairy Tales. Sounds a lot like Bill Willingham's excellent Fables comic series, which was developed as a series by NBC a few years back but never made it further than a script. This might be one to watch, because the script was written by genre vet David Greenwalt, who has worked on everything from Angel to Eureka.