NCIS Reaches 200th Episode Landmark On February 7th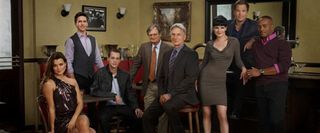 NCIS was initially conceived as a spin-off of JAG, a show that averaged between 11 and 15 million viewers before lagging off in its 9th and 10th seasons on CBS. Creating NCIS as a spin-off has proved fruitful, as ratings have improved every year since the show's first season aired back in 2003. Since episodes of NCIS have been higher than ever in Season 9 -- hovering around 20 million viewers per episode -- it is especially fitting that NCIS' 200th episode is coming up. With statistics looking that good, I expect NCIS to be around for a long while.
A 200th episode is usually regarded as a pretty big achievement; however, star Mark Harmon, who plays Special Agent Jethro Gibbs, is being nonchalant about the whole affair. According to Deadline, during a TCA panel announcement, Harmon spoke out about his 200th episode experience in simple terms.
However, reaching the landmark that is a 200th episode is a very big deal. Set to air February 7th, the episode "Life Before His Eyes" will focus on a key moment in Gibbs' existence. Set mostly within a diner, the episode will incorporate flashbacks from the last nine years, meaning it should be a little nostalgic for anyone who has been watching since the program's inception. Additionally, many past cast members will return for the episode, including Muse Watson.
There's no other word on who will show up during the special episode yet. NCIS executive producer Gary Glasberg was keen to point out those who will not return, which unfortunately includes actress Lauren Holly, who appeared on the show from 2005-2008.
Congratulations to NCIS for reaching the 200th episode landmark. "Life Before His Eyes" will premiere Tuesday, February 7th on CBS.
Your Daily Blend of Entertainment News
Thank you for signing up to CinemaBlend. You will receive a verification email shortly.
There was a problem. Please refresh the page and try again.