Neil Marshall To Direct Black Sails Pirate Pilot For Starz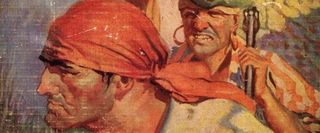 Back in May we told you about Black Sails, a pirate series being exec produced for Starz by the one, the only Michael Bay. (We'll leave it to you whether being the one, the only Michael Bay is a good thing or a bad thing.) Black Sails isn't just any old pirate series, mind you; it's a prequel to Robert Louis Stevenson's classic Treasure Island. Now Starz can add another big name to the project, announcing that director Neil Marshall (The Descent) will be helming the pilot episode.
In addition to films such as Dog Soldiers, Doomsday, and Centurion (he has a thing for the first few letters of the alphabet, doesn't he?), Deadline points out that Marshall recently directed an episode of HBO's Game of Thrones called "Blackwater." Apparently he's sticking with the nautical theme… The show was created by Jon Steinberg and Robert Levine, with Steinberg set to serve as showrunner.
While I haven't loved Marshall's last couple of films (especially Doomsday), he's still a talented director, and the experience on Centurion and Game of Thrones should serve him well on another period drama like Black Sails. With him at the helm of the pilot, he'll also have a chance to help define the show's look and feel.
Starz continues to line up interesting-sounding shows in their production timeline. Although their breakout hit Spartacus only has one season left, they've continued to keep the bar of quality high with Boss and Magic City. And with shows like Black Sails and a truly badass sounding science fiction drama from Spartacus' Steven S. DeKnight and Babylon 5's J. Michael Straczynski, Starz could give cable nets like HBO and AMC a run for their money.
Black Sails is expected to premiere on Starz sometime in 2014.
Your Daily Blend of Entertainment News
Your Daily Blend of Entertainment News
Thank you for signing up to CinemaBlend. You will receive a verification email shortly.
There was a problem. Please refresh the page and try again.