Nick Offerman (aka Ron Swanson) Is Writing A Parks And Recreation Episode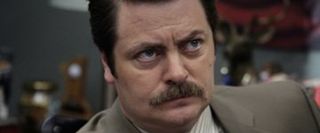 Fans of NBC's Parks and Recreation know that there's very little that Ron Swanson cannot do. He cooks a mean barbecue, he has no patience for idiots, and he sports the single manliest display of facial hair ever sprouted. It's no surprise, then, that someone has finally decided to test his writing talents. Yes, Ron Swanson -- well, actor Nick Offerman, anyway -- will be writing an episode of the show he's arguably the best part of. Hitfix's Alan Sepinwall talked to Offerman about the new challenge, and the actor said he jumped at the chance, despite having limited prior writing experience.
Offerman was offered (ahem) the chance to write an episode by Parks and Rec co-creator Michael Schur. As Offerman recalls, "As is my habit, I burst into explosive tears and said, 'Absolutely, I would love to. Why in the world would you want me to write an episode?'" Agreeing to do it and actually doing it are two different things, however, and Offerman was soon faced with the fact that his previous writing experience was limited to papers for school and "a lousy script in 1998." When asked why he thinks Schur raised the idea, Offerman says that he's often pitched new dialogue to the show and that he thinks Schur just finds his "general [use of] language" entertaining. (Offerman is apparently the one who originally coined the moniker "Ron Fucking Swanson.")
The actor -- make that actor/writer -- says that he loved writing the various characters' voices, most especially Aubrey Plaza's April: "I got to make her filthy and evil and everything I love to see her do." Offerman doesn't drop any other clues as to what his episode (the 18th of the season) will revolve around, but he does rule out one possibility: Ron Swanson will not be conquering the Visigoths, although he would love to tell that story. " It would probably involve inter-dimensional travel, or Ron Swanson would end up in New York in a bare knuckle brawl with Jack Donaghy, which is a secret dream of mine."
Your Daily Blend of Entertainment News